From selecting and maintaining a server to deciding whether or not to virtualize, Windows administrators have their hands full in regards to the infrastructure and architecture of their environment. With tips on planning your infrastructure, virtualization strategies and the latest OS news, this digest is a great resource for Windows IT managers and administrators.
Table of contents: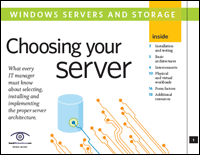 E-book: Choosing Your Server Selecting, installing and implementing the servers in your organization is a critical challenge. This chapter from the e-book Windows Servers and Storage contains information to guide administrators and IT managers in the selection and installation of servers, systems and subsystems. The chapter discusses the hardware, architecture, form factors and scalability of your servers.
E-book: Planning your server environment There are many factors to consider when planning for your organization's server environment: the server vendor, which operating system it will run, how much memory and I/O, and perhaps even which processor. This chapter from the e-book Windows Servers and Storage provides systems administrators and IT managers with practical knowledge they can apply to avoid missteps when selecting the machines that will run their critical business applications.
Windows Server 2008 R2: Not your father's R2 upgrade
While Windows Server 2003 R2 failed to live up to its own hype, Microsoft's next R2 release is in many ways a completely different OS. Find out what's new in Windows 2008 R2, and why some of the new features and improvements could be well worth the upgrade.
What's new with Active Directory?
Find out what to expect from Active Directory in Windows Server 2008 R2, with details on key new features such as the AD Recyclying Bin, Managed Service Accounts and the Active Directory Administrative Center (ADAC).
When to move off XP, onto Windows 7
IT shops that skipped Vista may want to get at least some desktops on the newer OS. Otherwise, upgrading to Windows 7 could get a little crazy.
A first look at Microsoft SQL Server 2008 R2
Get details on the new features and improvements that are expected to be apart of Microsoft's upcoming SQL Server release, set to launch in early 2010.
How to Implement Cluster Shared Volumes in Hyper-V R2
Microsoft has added Cluster Shared Volumes to its Hyper-V R2 virtualization software, allowing multiple virtual machines to be stored on a single logical unit number.
Configuring Active Directory GPOs in a VDI environment
Bringing virtual desktop's into your enterprise may require a new approach to your desktop management and deployment methods. One of the most significant configurations to focus on during installation is that of the GPO for VDI OS images. For an easy transition to virtual desktops, focus on configuring Group Policy Objects for VDI OS images.
Choosing between type 1 and type 2 client virtualization
There are two ways to run a virtual machine directly on a client device. Columnist Brian Madden sorts out how they might fit into each enterprise.
How to install Microsoft VDI and key deployment considerations
Installing Microsoft VDI involves certain hardware requirements, the integration of components and patience. This tip explains how to install Microsoft VDI and key requirements.
Hyper-V gains new resiliency features with Windows 2008 R2
Live Migration is just one of the key improvements made to Hyper-V with Windows Server 2008 R2. Find out what else Microsoft has added to the second version of its server virtualization platform.
Virtualizing Exchange Server 2007 -- Where it works
Virtualizing Exchange 2007 servers was a no-brainer for Maxol, an oil distributor located in Dublin, Ireland. But it may not be the best route for every company. Why did it work so well for Maxol? And why should your company look before it leaps when deciding whether or not to virtualize Exchange 2007?
More Windows infrastructure resources


Brien Posey's Windows Blog
Join Windows expert Brien Posey as he takes you through the basics and the not-so-basics of being a Windows administrator. Learn about managing Windows XP and Windows Vista, securing your Windows network, keeping your users in line and more.
The Windows Server Notebook
This blog features news and commentary on a variety of Windows technologies. Here's your chance to learn about and weigh in on the latest Microsoft releases and strategies, with a focus on server operating systems, virtualization, and security.
SearchExchange.com - The Web's best resource for Microsoft Exchange professionals
Looking for the latest advice for Microsoft Exchange Server? This site provides tips and news on Microsoft outlook, file archiving, email security and more.
This was first published in July 2009