CNAME
A CNAME specifies an alias or nickname for a canonical name record in a domain name system (DNS) database. (Continued...)
Looking for something else?
A CNAME specifies an alias or nickname for a canonical name record in a domain name system (DNS) database.
Keeping Up with Microsoft Software Licensing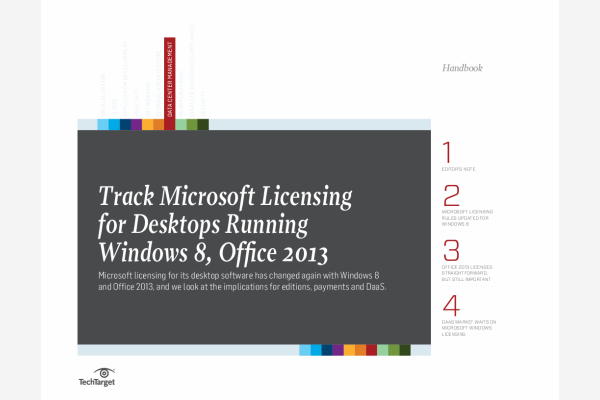 Microsoft licensing schemes are notorious for being complicated and ever-changing. Our experts review the ways in which the latest versions of Windows and Office have changed their licensing and payment options - and how they'll affect businesses and virtual desktops.
By submitting your personal information, you agree to receive emails regarding relevant products and special offers from TechTarget and its partners. You also agree that your personal information may be transferred and processed in the United States, and that you have read and agree to the Terms of Use and the Privacy Policy.

Every alias for a computer or server is associated with a specific CNAME in the DNS database. Consider, for example, a set of URLs (Uniform Resource Locators) that all belong to a single organization and that all direct online visitors to the same Web site. Each of these URLs is an alias for a single canonical name that is associated with an IP address in the DNS database.
In addition to facilitating the use of multiple URLs for a single Web site, CNAMEs can be convenient when a well-known organization changes its canonical name. The CNAME will then redirect people who enter an old URL to the correct Web site, even if the old URL is no longer official.
Continue Reading About CNAME
PRO+
Content
Find more PRO+ content and other member only offers, here.