iSCSI target (Internet Small Computer System Interface target)
ISCSI target is a storage option in an Internet Small Computer System Interface server that manages connections between servers that need access to the targets and the iSCSI storage subsystem in a storage area network.
Looking for something else?
TECHNOLOGIES
1. An iSCSI target is a storage resource located on an Internet Small Computer System Interface (iSCSI) server. iSCSI is a protocol used to link data storage devices over an IP network infrastructure. (Also see: IP storage.)
IT Acronyms - A Quick Reference Guide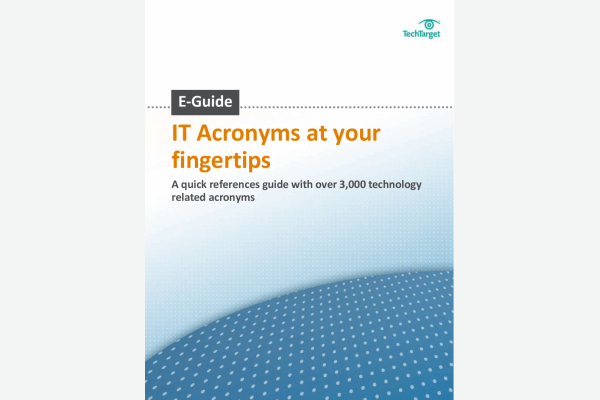 Download this free quick reference guide with over 3,000 IT acronyms; including a special section of the top 15 acronyms you need to know today.
By submitting your personal information, you agree to receive emails regarding relevant products and special offers from TechTarget and its partners. You also agree that your personal information may be transferred and processed in the United States, and that you have read and agree to the Terms of Use and the Privacy Policy.

2. Microsoft ISCSI target is a role in Windows Server 2012 that can turn a computer running Windows Server into a storage device capable of providing shared block storage in the form of virtual hard disks (VHDs) to clients across a TCP/IP network. The device being accessed is called the Target and and the server (or client) accessing the Target is called the Initiator.
Microsoft iSCSI target can be used to perform a variety of storage-related tasks, including providing shared storage for Microsoft Hyper-V, consolidating storage for multiple application servers, providing shared storage for applications hosted on a Windows failover cluster and enabling diskless computers to boot remotely from a single operating system (OS) image.
Continue Reading About iSCSI target (Internet Small Computer System Interface target)
Glossary
'iSCSI target (Internet Small Computer System Interface target)' is part of the:
View All Definitions
Dig Deeper on Microsoft Windows Server 8 Administration