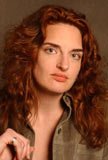 Christa Anderson
A former Terminal Services MVP, Christa Anderson is a program manager on the Terminal Services team at Microsoft and author of the forthcoming Windows Terminal Services Resource Kit from Microsoft Press. She is an internationally known authority on scripting, the author of Windows Terminal Services, The Definitive Guide to MetaFrame XP, and co-author of the book Mastering Windows 2003 Server .

She writes a bi-montly scripting column, which can be found here.

Do you have a question for our experts?