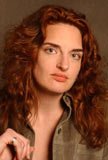 Christa Anderson, WinIT
Christa Anderson, a columnist for Windows and .NET Magazine, is an internationally-known speaker and writer about server-based computing. Her books include Windows Terminal Services (Sybex, 2002), The Definitive Guide To MetaFrame XP (available from www.realtimepublishers.com) and co-authorship of the best-selling Mastering Windows Server 2003 (Sybex, 2003). You can sign up for her free e-mail newsletter at her server-based computing site: www.termservhub.com.

Do you have a question for our experts?