ADToolkit Version 4.0 is a collection of tools designed to ease the day-to-day management of Active Directory by providing bulk task execution and streamlined configuration of common administrative tasks.
Javelina Software's ADtoolkit
allows IT managers to perform several Active Directory tasks at once, such as adding users, deleting or disabling user accounts, resetting passwords, modifying AD attributes and configuring Microsoft Exchange mailboxes. To make these bulk changes, Windows managers can use ADtoolkit to import user names from various sources, such as spreadsheet files or from its own built-in Reporting Tools.
The software includes a custom reporting tool that Windows managers can use to compile and filter data from Active Directory.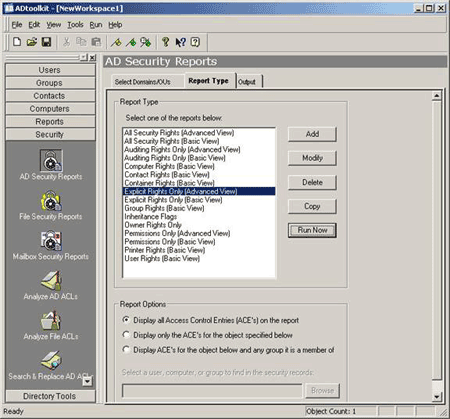 Figure A: ADtoolkit
This newest version also includes enhancements such as complex scheduling, multi-domain support, SMTP email support, PDF format for reports, and auto-emailing of reports and output files.
Other new features in ADtoolkit v4 include the following:
New security reporting tools that generate reports with in-depth information needed to comply with government regulations, such as HIPAA and Sarbanes-Oxley.
A complex scheduling tool that allows Windows managers to schedule tools or reports to run on a re-occurring basis.
System requirements: Windows 2000, Windows 2003 or Windows XP.
Pricing: Starts at $1,295 per administrator. Volume licensing applies.
This was first published in January 2008