In this selection from
Windows Vista Secrets
, authors Brian Livingston and Paul Thurrott explain what to do when the Vista interactive Setup application asks to delete, format, or extend the current disk, or create a new partition, during a clean install of Microsoft Windows Vista.
---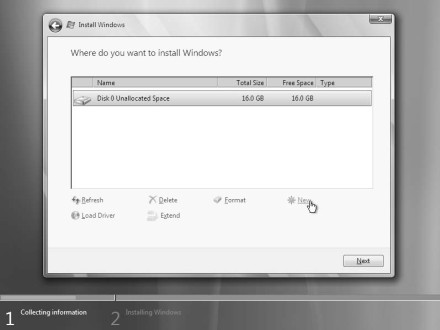 New to Vista Setup is a more graphic disk configuration phase.
In the next window, select the partition, or disk, to which to install Windows Vista
. On a clean install, typically, you will be installing Windows Vista to the only disk available, as shown above.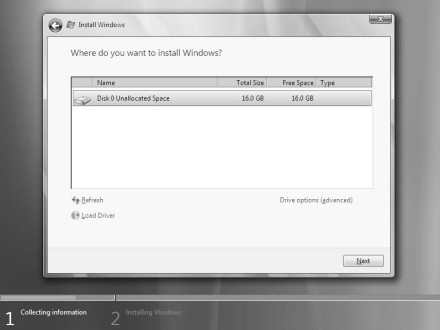 Here, you can perform various disk-related tasks, including resizing partitions.
Typically, you will see a link called More Options on this window
. Clicking this link brings you to a screen where you can delete, format, or extend the current disk, if possible, or create a new partition if the hard drive is brand new and unformatted. This window is shown in the screen shot above.
Secret:
If you are performing a clean install on a previously used machine, we advise you to format the disk during this step to ensure that none of the cruft from your previous Windows installation dirties up your new Windows Vista install. You don't actually need to format a new disk. If you attempt to install Windows Vista on an unformatted disk, Setup will simply format the disk to its maximum capacity, automatically.


How to perform a clean install of Microsoft Windows Vista


Introduction

Starting a clean install of Microsoft Windows Vista

Continuing with a clean install of Microsoft Windows Vista

Completing a clean install of Microsoft Windows Vista
This was first published in April 2007