Visual Click Software, Inc.'s DSRAZOR for Windows administration tool is an interactive agent that helps administrators manage their Windows and Active Directory environments.
DSRAZOR for Windows helps administrators find security weaknesses, document objects, manage attributes and delegate duties. Admins can delegate helpdesk activities with point solutions that require minimal training and reduce "user error." Other features include the ability to customize applets to perform system administrative tasks, modify ready-to-run applets, assess and document Active Directory and Windows File System security. Increased network security and performance is also possible as DZRAZOR has queries that discover system weaknesses.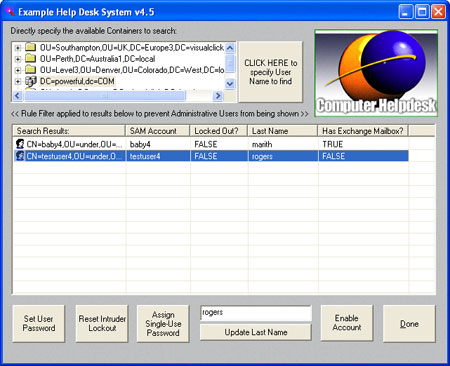 Figure A: DSRAZOR for Windows
New features in DSRAZOR for Windows include:
New services for improved management of compliance activity of Windows Active Directory and NTFS.
Full logging of all actions.
System requirements: Any Intel-compatible workstation running Windows NT or later, 5 MB of disk space.
Pricing: The base price for single-user licensing is $495 for 250 user objects. This license includes ownership of the product and full customer benefits for use by only one user.
This was first published in January 2008