TNT Software Inc.'s ELM Enterprise Manager 5.0 monitors the health and status of a distributed Windows system.
ELM Enterprise Manager 5.0 is rules-based enterprise system- and server-monitoring and reporting software. It uses agents, either as real-time installed service agents or polling virtual agents, to monitor distributed Windows systems.
For firewalls and network devices, IP agents monitor Internet services and receive SNMP traps and syslog messages. The data collected is processed at the central ELM Server and stored in a Microsoft SQL Server database.
ELM Enterprise Manager 5.0's new features include the following:
The use of custom filters to select data for concise views and to trigger rules for granular notification. As conditions change, it alerts users and presents the data in an analyzed format.
Several reporting options that give IT administrators a detailed view of critical health and status data. ELM Publisher is preconfigured to collect data and generate many of the most commonly requested management reports. Further, ELM is a custom reporting engine with a query-based tool for generating ad hoc and schedulable reports.
SQL Server database storage. ELM requires two database instances -- one for real-time reporting and a second as a failover database.
Microsoft Management Console as its primary interface.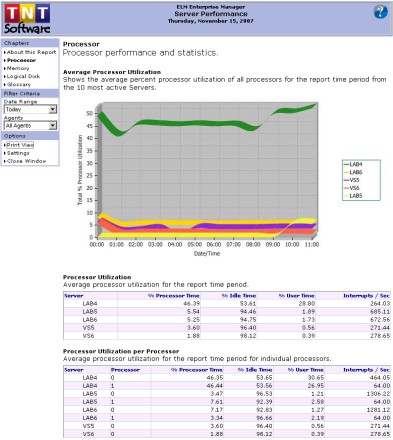 System requirements: Windows 2003, Windows XP, Windows 2000.
Price: Available for a free 30-day trial. Base price is $425 per Windows Server.
This was first published in January 2008