TNT Software Inc.'s ELM Event Log Monitor 5.0 has real-time monitoring, alerting and reporting that complements the Windows security framework.
ELM Event Log Monitor 5.0 collects events from Windows systems across the enterprise and presents the information in a granular format. The software uses Microsoft Management Console as its primary interface. It has custom filters that let IT choose data for precise views and trigger rules for notification. It alerts IT as conditions change and presents data in a simplified format.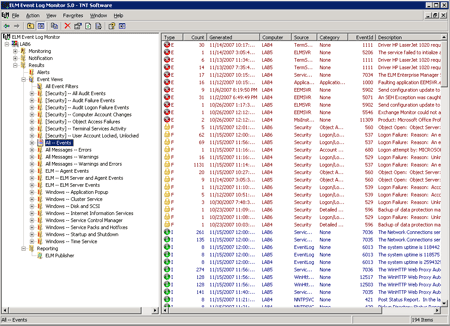 Figure A: ELM Event Log Monitor 5.0
ELM Event Log Monitor 5.0 has new features, which include the following:
ELM Publisher, a preconfigured reporting tool that collects data and generates many of the most commonly requested management reports.
Data storage in Microsoft's SQL Server databases. ELM requires two consecutive instances -- the primary database for real-time reporting and a failover database as a back up. Pruning and archiving features help manage the data for long-term storage needs.
System requirements: Windows Vista -- Business, Enterprise and Ultimate Editions (32-bit and 64-bit), Windows Server 2003 Standard Edition or Enterprise Edition, Windows XP Professional SP2, Windows 2000 Server or Advanced Server or Datacenter Edition, Windows 2000 Professional. All Windows 2000 systems must have SP4 and- Update Rollup 1 for Windows 2000 SP4.
Pricing: Licensed by the quantity of agents used to collect data from the specific systems. Windows Cluster Servers: $125; Windows Servers: $125; Windows Workstations: $25.
This was first published in January 2008