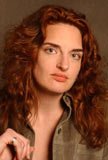 FAQ EXPERT:
Christa Anderson
, columnist for Windows and .NET Magazine, is an internationally-known speaker and writer about server-based computing.
If you have a Terminal Services question, check below first to see if Christa may already have answered it.
Frequently Asked Questions: TERMINAL SERVICES
Didn't find what you were looking for? Click here to browse all previously answered questions on Terminal Services.

You can also click here to pose a question of your own in this category.

If you prefer, you may opt to view the entire FAQ on a single page.
This was first published in January 2006