ScriptLogic Corp.'s File System Auditor 2.0 records Windows 2000 Server and Windows Server 2003 file server activity so that administrators can audit file access, generate reports and create alerts tied to file system events.
File System Auditor 2.0 from Scriptlogic helps administrators protect sensitive information by reporting attempts to access and modify files and folders, providing information about who did what and when. The software can also assist with government and industry compliance regulations, including HIPAA and Sarbanes-Oxley. The software creates an audit trail of file activity on patient records, financial records or other sensitive information where access controls are required.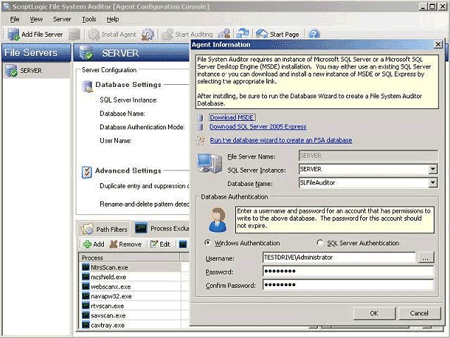 Figure A: File System Auditor 2.0
Email alerts can be generated whenever an "access denied" event occurs in a particular set of files and folders or by particular users. File System Auditor has intelligent auditing to monitor a file system, centralized storage in a SQL database and real-time notification.
File System Auditor 2.0 includes the following new features:
Centrally installs and uninstalls the auditing service on every file server from one console with no reboots or interruption for faster set up.
Quickly audits changes in permissions on files and folders.
Generates reports for any file server from a central location. It records all events on a central SQL database.
System requirements: Windows 2000 SP4 with Update Rollup 1: Professional Server, Windows XP Professional with SP2, Windows Server 2003 with SP1, Vista.
Pricing: $899 per server being audited.
This was first published in January 2008