The GPExpert Scripting Toolkit for PowerShell v 1.0 provides for automation of the actual settings of a Group Policy Object. The toolkit from SDM Software Inc. lets Windows managers use PowerShell to read, search and modify settings within local and domain-based GPOs.
With GPExpert Scripting Toolkit for PowerShell v 1.0, Windows managers can write scripts that make bulk changes to GPOs across domains or standalone Windows systems. It can search for settings across several GPOs to ensure that they are set to a specific standard.
GPExpert Scripting Toolkit provides PowerShell, VBScript and .NET interfaces into the actual settings within Group Policy Objects.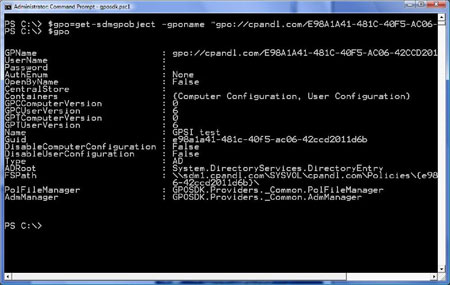 Figure A: GPExpert Scripting Toolkit for PowerShell v 1.0
Some of the key features of the toolkit include:
 

Supports most policy areas including both ADM and ADMX administrative templates.

 

Supports scripting the actual settings of local and domain GPOs.

 

Creates a platform for automating all aspects of Group Policy management in conjunction with Microsoft's Group Policy Management Console.
System requirements: Microsoft Windows XP, Windows 2003 and Windows Vista. Additional requirements include Microsoft .NET Framework 2.0 and Microsoft PowerShell 1.0.
Pricing: Typically licensed on a per-user basis for $4 per managed user with a minimum of 1,000 users. Volume pricing is available.
This was first published in January 2008