Quest Software's GPOADmin 1.5 extends capabilities of Microsoft Group Policy Management Console (GPMC) to help streamline and automate critical tasks and provide enhanced auditing, version control and reporting capabilities.
GPOADmin automates critical Group Policy management tasks to reduce costs and eliminate manual processes. It enhances the Microsoft Group Policy Management Console (GPMC) so you can quickly and effectively administer Group Policy Object (GPO) changes and verify and compare GPO versions over time to confirm the consistency of different GPO settings.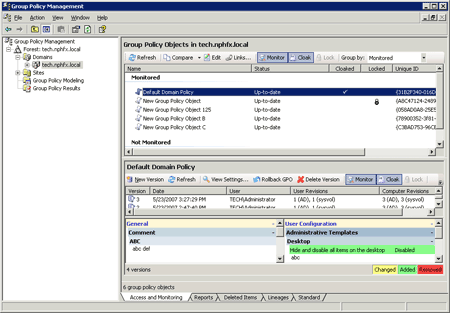 GPOADmin 1.5 eases management of Group Policy
With GPOAdmin, you can compare GPMC backups, a GPMC backup and an active GPO, active GPOs within or across domains, or versions of a single GPO over time. It can also automatically create a detailed log of each GPO setting change for audit and rollback purposes and create unparalleled control and efficiency for your Windows network.
Version 1.5 eases the use and administration of Group Policy even further to help drive improved operational efficiency and lower Windows management costs. Its built-in, customizable comment templates simplify GPO change documentation. This version also allows you to compare multiple GPOs to ensure a healthy and consistent environment that complies with corporate policies, regulatory standards and frameworks such as ITIL, MOF, SOX, Basel II, HIPAA and C-198.
GPOADmin includes these new features:
Group Policy lineage minimizes the impact of Group Policy changes with a best-practice approach that applies the change to a replica, or "clone," GPO before it's linked to the production environment.
Group Policy commenting allows you to create customizable comment templates that can easily document all GPO changes required for internal policies and external regulations and standards.
Enhanced Group Policy comparison allows you to compare a source GPO to multiple targets to verify settings throughout an environment -- one of several sophisticated comparison tools you'll find in this version.
System requirements: Microsoft Windows.
Pricing:$6.00 Plus $1.20 annual maintenance (per user).
This was first published in January 2008