LogADmin 2.0 from NetPro Computing is a secure event log archiving, searching and analysis IT compliance tool for Windows. It's a way to meet security and compliance requirements -- without manual scripting.
LogADmin consolidates, compresses, and encrypts Windows event logs for long-term archiving, instant searching, and deeper analysis. As new servers are brought online, LogADmin dynamically includes them in the log archival process, eliminating manual processes. And it compresses logs to save disk space.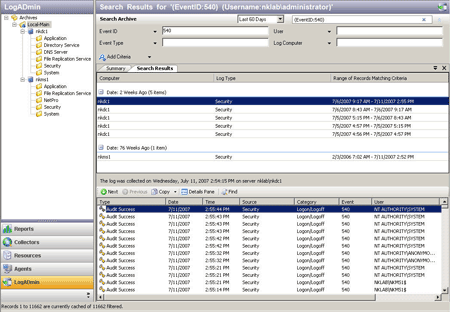 Figure A: LogADmin 2.0
This IT compliance tool collects and consolidates enterprise-wide event logs via a user-friendly interface. It then displays detailed information about individual event logs and organizes them for fast filtering of specific events and side-by-side analysis. LogADmin allows Windows systems administrators to track and analyze user activities to determine the cause of an impending compromise.
LogADmin 2.0's new features include the following:
Event log searching and indexing: Searches, filters and sorts through hundreds of pre-indexed logs spanning multiple servers to quickly locate the event logs matching search criteria.
Consolidated event log viewer: Users can view the contents of the filtered search, spanning one or more event logs in a single view.
Advanced Windows event log reporting: Delivers information quickly by creating rules to send related or filtered events into one or more reporting databases, depending on business requirement.
System requirements: Microsoft Windows.
Pricing: All prices are on a per-user basis -- $1 for LogADmin, $5 for annual maintenance.
This was first published in January 2008