MAPILab Statistics for SharePoint
Learn how MAPILab Statistics for SharePoint helps administrators analyze how the collaboration tool is used.
Looking for something else?
MAPILab Ltd.'s MAPILab Statistics for SharePoint collects and analyzes data about SharePoint product usage and reports on user traffic details..
MAPILab Statistics for SharePoint
builds and creates reports that administrators can use to evaluate site visitor traffic and review finite details like user sessions and hits. When integrated with Active Directory, it also lets admins gather reports on domains, organizational units and individual users. Reports on search queries include search results to estimate user satisfaction levels.
The latest version of the tool contains reports on document creation and usage, SharePoint environment settings and parameter reports as well as Web-application and database size reports.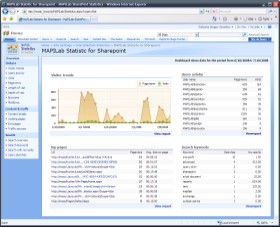 Figure 1: MAPILab Statistics for SharePoint (Click on image for enlarged view.)
Other key features of MAPILab Statistics for SharePoint include:
Interactive reports. All reports allow you to change the order of columns -- sorting and grouping by each field without needing to refresh. Every report contains a filter that defines a time period and additional parameters for data filtration. Reports can be defined in three ways: The first will review users' activities and visiting dynamics; the second gathers info on intensity of usage of site pages or site collections; and the third method collects data on SharePoint search services usage.
Connection between reports. Reports generated via MAPILab Statistics for SharePoint contain links and controls for receiving detailed reports quickly.
System requirements: Microsoft Office SharePoint Server 2007, Windows SharePoint Services 3.0, Microsoft SQL Server 2005; SQL Server 2005 Express Edition, Windows Component: Message Queuing, Microsoft .NET Framework 2.0 Service Pack 1 5. (Internet Explorer 7.0 is recommended to view reports.)
Pricing: Enterprise pricing is available upon request.
Dig Deeper on Microsoft SharePoint Management and Administration
PRO+
Content
Find more PRO+ content and other member only offers, here.