SIMON is NetVision's managed service offering, which is designed to monitor and report identity access and information on core network directories and file systems.
NetVision created SIMON to address questions about user accounts, access rights, user behavior and administrative activity.
Delivered as a managed service, SIMON is a preconfigured package that is designed to keep information secure, as well as simplify the process of responding to audits and understanding access rights. It contains preconfigured policies and reports to minimize training requirements for administrators.
New features include:
Best data --SIMON collects events and audit information directly from the source. This data can be filtered by object type, specific attributes, subset of objects, organizational unit and more.
Event management flexibility -- Event consumption and reporting options and reporting help users determine their next step once an event is evaluated. Options include writing the event data to its reporting database, creating an XML or CSV file, or sending an alert, to name a few. Customized reports can help eliminate database and inbox clutter.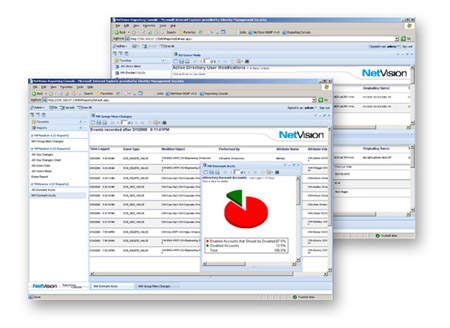 System Requirements: Windows Server 2000, 2003 (32- or 64-bit), 2008 (32- or 64-bit), Active Directory, Novell eDirectory, Novell NetWare.
Pricing: Pricing is quoted per user based on actual employee numbers. Managed Service subscriptions start at $13/user per year and are volume discounted from there. Traditional software ownership (non-service) packages are also available starting at $23/user with volume discounts also available.
This was first published in February 2009