PowerShellPlus from Idera is an interactive scripting environment designed to help administrators and developers learn and master Windows PowerShell.
Microsoft designed Windows PowerShell to give administrators a simpler way to control systems administration and automation. However, learning to correctly use the command line shell and scripting language can be a challenge at first.
Enter PowerShellPlus Professional. The tool features an interactive console for learning Windows PowerShell that actually integrates with PowerShell itself, allowing you to learn quickly and safely. It also has an advanced script editor and comprehensive learning center and comes loaded with scripts for managing SQL Server, SharePoint and VMware.
The learning center is designed to let Windows administrators learn PowerShell by example by starting with basic concepts and continuing with short tutorials. PowerShellPlus also provides the basics on currently installed PowerShell cmdlets, snap-ins and Windows Management Instrumentation (WMI) objects.
Other PowerShellPlus features include:
An advanced code editor and debugger, which allows users to build and test complex PowerShell scripts
One-line PowerShell commands you can try from an embedded console window
Sign scripts with a security certificate
(Click to enlarge)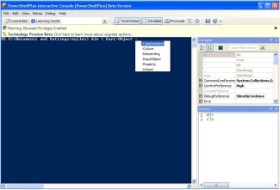 System requirements: 2Windows PowerShell 1.0 or 2.0. PowerShell requirements are Windows Vista RTM and higher (x86/x64), Windows XP SP2 and higher (x86 and x64), Windows Server 2003 SP2 (x86/x64/Itanium-base) and Windows Server 2008 RTM and higher.
Pricing: PowerShellPlus Professional is priced at $145 per user.
This was first published in February 2009