Active Administrator 5.0.1 is an enterprise-class integrated Active Directory management and auditing tool from ScriptLogic Corp., which is designed to improve security and business continuity in Windows networks.
The following features are also included:
An improved user interface.
The new user interface closely resembles other ScriptLogic products, and Active Administrator's functionality has been grouped into four management areas: security and delegation, Group Policy, auditing and recovery.

Expanded AD event reporting, filtering and alerting.
Active Administrator collects events, including the event ID, affected object location, object type and success or failure from the log. The reporting interface was designed to simplify management, with scheduling integrated directly into reports. In addition, the new server management console provides a wizard for creating alert rules with an improved interface for managing and editing all of them in one place.
Event collection agents feature improved performance and scalability, together with the ability to monitor domain controllers from a member server. The server management console lists the DCs that are audited by agents on which specific servers, as well as their status, version, database and credentials.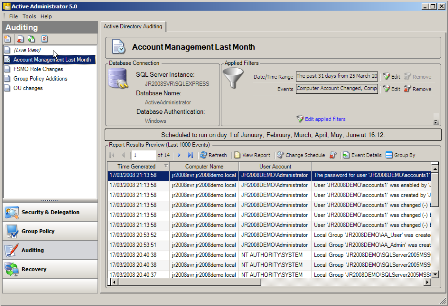 System requirements: Requires installation within a 2000/2003/2008 AD domain. The auditing feature requires a SQL Server or SQL Server Express database. The console can be used on any computer running Windows XP, Vista or Windows Server 2000, 2003 or 2008.
Pricing: Before volume discounts in North America, pricing begins at $13.50 per user with a minimum of 50 users. Further discounts are available when the product is purchased with other Active Directory solutions.
This was first published in February 2009