NetPro Computing Inc.'s SelfServiceADmin offers 24x7 agentless support for immediate password resets and account unlocks, restoring user access to business-critical applications without help desk intervention.
More stringent password policies help  SelfServiceADmin protect users' privacy. When a violation occurs, the software alerts users. Then, a built-in library of challenge questions verifies the user's identity. SelfServiceADmin also provides reports showing login attempts and failed logins, which helps meet compliance with corporate policies.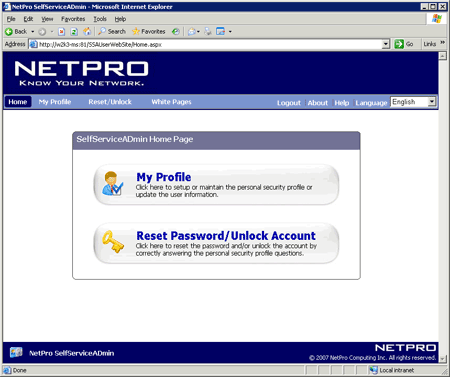 Figure A: SelfServiceADmin
SelfServiceADmin 2.0 reduces helpdesk calls by allowing users to manage and update their own information within the directory. The software also gives employees a white pages index and company-branded user-portal for easier collaboration and improved corporate communication. This version offers increased account security with activity notification email so users know if and when their accounts have experienced malicious or unauthorized access.
SelfServiceADmin 2.0 also has the following features:
Simplified data management that has the ability to quickly remove user profiles for accounts no longer in AD and purge surplus audit data.

 

Optional answer masking for enforcing account answer masking or leaving it as a user option.

 

User portal customization for instilling employee trust in the use of the SelfServiceADmin user portal through the ability to customize the physical appearance of corporate password and account portals with organizational branding and graphic elements.
System requirements: Windows 2000 Professional (SP4), Windows XP (SP1), Windows Server 2003, Windows Vista Business and Ultimate (x86 or x64 bit platform 6 or above); Internet Information Server (IIS) 6.0; Microsoft .NET Framework 2.0; Microsoft Core XML Services (MSXML) 6.0; ASP.NET v2.0.50727.
Pricing: $ SelfServiceADmin $3; Annual Support and Maintenance - 60 cents.
This was first published in January 2008