Mastering Microsoft Windows Server 2008 R2
Chapter 29: Server Virtualization with Hyper-V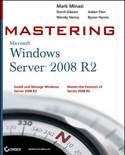 With the release of Windows Server 2008 R2, Microsoft breathed new life into Hyper-V -- boosting its performance and capabilities. This chapter gives you an introduction to server virtualization and how Hyper-V and its components fit into that bigger picture.
In Server Virtualization with Hyper-V, Windows expert Mark Minasi explains how Hyper-V works with Windows Server core and how to manage Hyper-V installations, including Live Migration. The chapter will also prepare you to build your own small environment using only native Windows software.
This chapter will help you determine:
When and where server virtualization makes sense in your enterprise
What you need to get started with Hyper-V
Which technology to use to quickly move a virtual machine between hosts
How to choose and implement the best backup strategy.
Download Server Virtualization with Hyper-V now.
This chapter download from "Mastering Microsoft Windows Server 2008 R2" co-written by Mark Minasi is printed with permission from Wiley, Copyright 2010. Visit  the publisher to obtain a copy of this book.
This was first published in April 2010