SharePoint e-zine: Practical IT strategies for enterprise collaboration
Have an irksome SharePoint implementation issue? Grappling with a SharePoint governance or management problem? Then check our monthly SharePoint e-zine. Its articles on governance, management and implementation can help you tackle technical questions and become a SharePoint master. Each month it features articles on key SharePoint issues that have the biggest impact on your deployment.
Looking for something else?
TECHNOLOGIES

PRODUCTS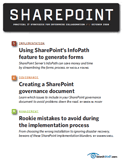 Are you deploying SharePoint for the first time or looking to expand your installation? SearchWinIT.com's SharePoint e-zine is full of articles and tips on governance, management and implementation to help you tackle your technical questions and become a SharePoint master. You'll also find articles on key SharePoint issues that have the biggest impact on your deployment.


Download this free guide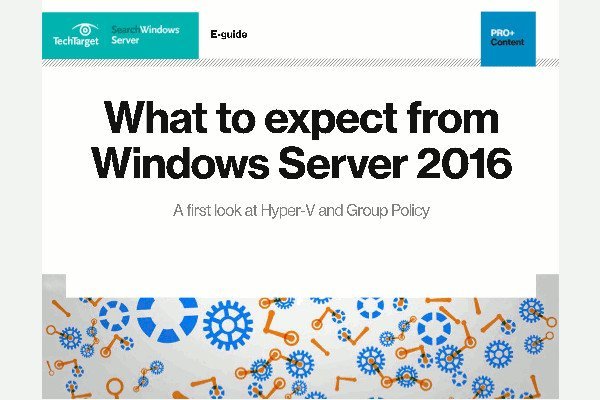 Download: A first-look at Hyper-V and Group Policy in Windows Server 2016
Access this complimentary guide to learn how Group Policy and Hyper-V features and capabilities have changed in Windows Server 2016, and discover the key networking, security, and storage benefits these changes offer.
By submitting your personal information, you agree that TechTarget and its partners may contact you regarding relevant content, products and special offers.
You also agree that your personal information may be transferred and processed in the United States, and that you have read and agree to the Terms of Use and the Privacy Policy.
---
Q1 2011: SharePoint Governance and e-Discovery
Information in SharePoint is subject to the same rules and regulations as other corporate data. But the proliferation of SharePoint sites can make it difficult for SharePoint administrators to respond to legal inquiries quickly and efficiently. Learn what you need to do to prepare for any e-discovery request. Also in this issue, choose third-party tools to help manage a multi-server SharePoint farm, and get expert advice on making SharePoint more secure.
→Download Q1 2011 issue
Q4 2010: Best practices for migrating to SharePoint 2010
When migrating to SharePoint 2010 it's good to have some best practices under your belt to smooth out the move. See why it's important to choose the right tool to move your content and why you should test your migration before going live.
→Download Q4 2010 issue
Q3 2010: Mastering workflow reports in SharePoint 2010
Mastering SharePoint tools helps you add considerable value to your organization. For example, admins can monitor workflow processes using SharePoint reporting and monitoring utilities, while InfoPath 2010 simplifies form development. This issue also features tips on how to modify your governance plan to eliminate SharePoint sprawl and streamline SharePoint deployments.
→Download Q3 2010 issue
Q2 2010: Time to beef up code retention policies
Damage control is vital to protecting your SharePoint server. This issue covers several ways to boost security in your environment, including using retention code policies to monitor patch management. SharePoint admins can implement SharePoint 2010 sandbox solutions to aid in damage control.
→Download Q2 2010 issue
Q1 2010: Tips and tricks for Electronic Content Management
It's no secret that Electronic Content Management (ECM) is a top feature for SharePoint admins. In this issue, expert Paul West shares some tips and tricks to get the most out of ECM. Also, check out the new capabilities that come with Service Applications in SharePoint 2010.
→Download Q1 2010 issue
December 2009: Kicking the tires on SharePoint 2010
The release of SharePoint 2010 made plenty of headway amongst the SharePoint community with few complaints. Learn what SharePoint 2010 has to offer, as well as tips on how capacity planning can prevent bottlenecking and improve performance. Microsoft MVP Brien Posey also breaks down how to make your governance plan stand out using SharePoint automation capabilities.
→Download December's issue
November 2009: Adding virtualization to SharePoint governance
Virtualization is a solid improvement to SharePoint operations, but it's important to account for the changes that come with deploying VMs. Additionally, see why employing a business intelligence solution in SharePoint is another way to improve your company's strategy.
→Download November's issue
October 2009: Top five SharePoint challenges and solutions
Although SharePoint is a valued platform for many businesses; it does come with its share of hiccups. Learn the top five setbacks and how to tackle them. In this issue you'll also get a rundown of SharePoint's social computing tools and the pros and cons of each.
→Download October's issue
September 2009: Creating an InfoPath development strategy
Looking for some best practices to get the most out of InfoPath? See why the simplest techniques are not always the best. Also, learn how to keep your SharePoint users in line and see that they respect your governance policy.
→Download September's issue
August 2009: Nailing down SharePoint service-level agreements
It's important to be honest with your SharePoint users, and that includes the truth about server availability. Using a service-level agreement (SLA) is the perfect way to state your claim and only deliver what you are able too. Also in this issue, check out three questions you need to ask before signing on with a hosted service.
→Download August's issue
July 2009: SharePoint taxonomies that stand the test of time
Navigating a SharePoint site should be pretty straightforward for users -- if you've created a clear information map. However, if your site taxonomies aren't up to par, you may be diverting users from the material they're seeking. Also, see how small companies can build a lasting foundation with a custom governance policy, and how to get an inside look at your environment with SharePoint analytics.
→Download July's issue
June 2009: Managing documents by content type
Do the SharePoint blues have you looking for fixes to some of your most trying SharePoint issues? Find out how managing documents by content type can speed up archiving, as well as how to develop a clear-cut policy for securing SharePoint in Windows. Also, learn about the four most common governance mistakes and how to avoid them.
→Download June's issue
May 2009:Quantifying the success of your SharePoint governance policy
How do you validate the need for a SharePoint governance policy? In this issue, find out how to build a support system for your policy. Plus, learn how to integrate your existing document management system with MOSS 2007 and refine your monitoring strategy so that no part of SharePoint is left behind.
→Download May's issue
April 2009: Rediscovery, research and prediction in SharePoint search
Get the most out of your SharePoint environment and use SharePoint search for rediscovery, research and protection. You'll also see why updating your governance document and site provisioning are essential for managing SharePoint growth.
→Download April's issue
March 2009: Must-have free SharePoint tools and add-ons
Sticking to a budget is a constant concern for SharePoint admins looking to do more with less, but there are several high-quality tools that can help fill the gaps when managing SharePoint. Discover the must-have free tools and utilities for any SharePoint installation. Also in this issue, SharePoint expert Paul Galvin sets admins straight on what not to do with SharePoint.
→Download March's issue
February 2009: Who is allowed to customize SharePoint?
How can a SharePoint administrator allow users to manipulate their SharePoint environments while making sure their changes conform to a governance plan? Read in this month's issue about the ways to empower users while setting boundaries for customization. Want to know how to use SharePoint to make Exchange work better? Learn five truths that every IT manager must know about SharePoint and Exchange. And get the details on making the move from WSS 3.0 to MOSS 2007.
→Download February's issue
January 2009: How to control workflow behavior with custom lists
Changing SharePoint Designer workflows in a production environment can be messy. Follow a step-by-step process to control workflows at runtime the right way in this month's SharePoint e-zine. Know how to integrate change management into a document library? Learn how to do it using SharePoint's own framework. And get up to speed on SharePoint's Business Data Catalog.
→Download January's issue
December 2008: Document version control gets a face-lift in SharePoint 2007
Versioning has come a long way since SharePoint 2003. Microsoft Office SharePoint Server 2007 offers the ability to differentiate between major and minor versions of a document. This new feature can make tracking down versions of a document a lot easier. Also learn to integrate Lotus Notes/Domino with Microsoft Office SharePoint Services 2007 successfully and improve enterprise search through governance planning.
→Download December's issue
November 2008: Balancing SharePoint Governance
Looking to calm your SharePoint chaos? Learn how to put in place a governance plan and service models to regain control of your SharePoint installation. Want to hand over a little responsibility to ease your administrative duties? Site owners use built-in SharePoint features to create their own site maps without any custom coding at all. Check out this month's issue for a step-by-step explanation on how to do it using out-of-the-box features. While you're at it, give your SharePoint a little high-performance tweak. Read our tips and tricks on how to fine-tune SQL Server for better SharePoint performance.
→ Download November's issue
October 2008: Using SharePoint's InfoPath feature to generate forms
Are you in the thick of the SharePoint implementation process? Then you're going to want to check out this month's edition. In it our SharePoint pros provide tips that can help you overcome your most irksome SharePoint implementation issues. This month you'll also get info on creating a SharePoint governance document and learn what mistakes to avoid during the implementation process.
→ Download October's issue
September 2008: Planning global enterprise SharePoint deployments
Cost shouldn't be the only factor when deciding on a centralized or decentralized SharePoint deployment. Read the second edition of our SharePoint e-zine for tips and tricks that Windows IT managers can use to ensure that their enterprise deployment strategy will be successful. In this issue you'll gt info on creating custom global search scopes and find top tips for harnessing SharePoint governance.
→ Download September's issue
Dig Deeper on Microsoft SharePoint Governance
PRO+
Content
Find more PRO+ content and other member only offers, here.