Shavlik Technologies LLC's Security Intelligence application assesses security risks across the network and identifies policies that fail to meet the requirements set by the IT department. Using a centralized Web-based dashboard, IT managers can view security configuration settings, system patch levels, spyware, malware and unapproved software.
Shavlik Security Intelligence manages security risk levels and adherence to regulatory compliance and corporate standards by giving IT departments a view of security risks, such as settings that have drifted or changed, improperly patched machines and hidden malicious software.
Shavlik Security Intelligence integrates with Shavlik's automated assessment, remediation and management (ARM) security suite.
Key features of Shavlik Security Intelligence include the following:
the ability to analyze and compare real-time data against adherence to regulations and policies from a single dashboard.
the ability to create alerts that exceed risk thresholds.
the ability to customize views of regulatory, organizational and technical needs, allowing users to drill down to specific system configurations and vulnerabilities.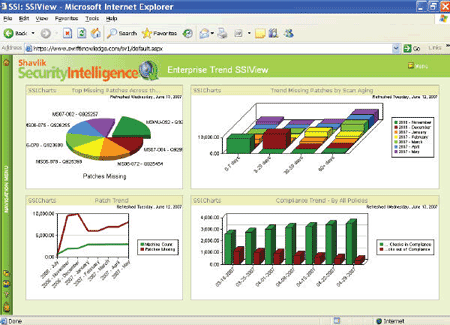 Figure A: Shavlik Security Intelligence
System requirements: Single server -- Windows 2003 SP1 or later, Internet Information Services 6.0, SQL Server 2000 SP3 or later, SQL Server 2000 Analysis Services SP3, .NET Framework 2.0, Microsoft XML Core Services 4.0, Microsoft Data Access Components 2.8. Minimum 1 GB of RAM (4 GB recommended).
Pricing: $250 per server (volume discounts apply), $23 per seat/workstation (volume discounts apply).

This was first published in January 2008