Special Operations Software's Specops Deploy 3.2 software is a Group Policy-based tool that deploys and distributes software to the Windows enterprise.
Special Operations Software's Specops Deploy 3.2 deploys and distributes software packages during user login or boot and provides detailed reports about the success or failure of the process. It also provides support for non-Windows installer setup.
The software lets systems administrators deploy and distribute software when computers are running (without a reboot), schedule software deployment and distribution and publish software deployment/distribution.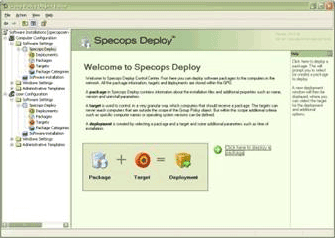 Figure A: Specops Deploy 3.2
Systems administrators can also deploy and distribute software over slow network links because BITS technology is used, which makes the downloads resume.
Version 3.2's new features include the following:
Support for Windows Vista and 64-bit desktops and servers.
Support for more advanced targeting options including target systems, users, security groups and Active Directory organizational units. Targeting is evaluated instantly on the client.
Advanced reporting, which is displayed both as numbers (updated in real time) and as graphs depicting success rate and deployment events over time. It is possible to drill down to specific client error messages, if needed.
Windows Installer packages.
System requirements: Windows 2000 Server/SP4 or later, .NET V2, MSDE or SQL Server 2000 or later, MMC/MSMQ on server only.
Pricing: $18 per system/user for 1,000 users, $13 for 5,000 users and $11 for 10,000 users.
This was first published in January 2008