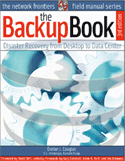 Get a glimpse inside The Backup Book with this excerpt from Chapter 1, 'When Bad Things Happen To Good Computers'.
Click here to read the chapter download.
Click here to buy the book.
Chapter Summary:
When a disaster happens, there are two categories of IT administrators. One says "it's okay, we have a backup," and the other says "oh #$%&*@!" This chapter will help put admins into the first category by combining what can go wrong and how that applies to the various backup methods, coupled with recovery tactics and solutions to real-world scenarios.
This chapter download from The Backup Book edited by Dorian Cougias, E. L. Heiberger and Karsten Koop is printed with permission from Network Frontiers, Copyright 2003.
---
To see all chapter downloads available on SearchWinSystems.com,
click here.
This was first published in March 2006