As compliance rises on the list of corporate concerns, Windows managers often have the difficult task of ensuring such needs are met. SearchWinIT.com's e-book, A Windows Manager's Guide to IT Compliance, offers best practices that help IT managers understand, establish and meet compliance while maintaining an efficient shop.
Chapter 3: Controlling Access for File Server Compliance
Ensuring file server compliance can be daunting, especially in large enterprises where many file servers reside on the network. In Chapter 3 of this e-book, Windows managers can learn how to control access to file server data and enforce proper security compliance requirements.

Chapter 2: Managing email server compliance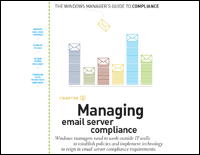 Whether faced with legal requests or archival needs, Windows managers must reach beyond the borders of IT to implement policies and technologies that adhere to email server compliance requirements. Chapter 2 offers practical advice on ways to deal with email server challenges. Learn how to follow the rules of email server compliance while controlling access through rights management.

Chapter 1: Keeping up with IT compliance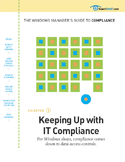 Staying up to date with IT compliance is a complex task. Between understanding the regulations that affect your Windows shop and learning how to achieve the right balance among file storage, email management and other compliance-related tasks, an IT manager's job is never done. Chapter 1 offers best practices on: :
Establishing an event log audit trail


Maintaining the event log


Encrypting email or files before they are stored or leave the network


Keeping an inventory of stored data


Download Chapter 1
This was first published in July 2008