Get started
Bring yourself up to speed with our introductory content.
Upgrading to Windows Vista: Checking compatibility with the Application Compatibility Toolkit (ACT)
Mark Minasi provides the information you need to ensure Windows Vista will run on your system. This chapter is an excerpt from Minasi's book, "Mastering Windows Vista for Business Professionals."
Looking for something else?
Mastering Windows Vista for Business Professionals
By Mark Minasi and John Paul Mueller
The following excerpt is from chapter two of Mastering Windows Vista for Business Professionals, entitled "Installing Vista."
---
Check out the rest of this chapter, Installing Vista.
Upgrading to Vista
Upgrading to Vista means a lot more than simply checking your hardware for compatibility and ensuring that you can actually update your copy of Windows. Vista has stricter application requirements, so you need to perform tasks such as checking application compatibility. The following sections discuss utilities you can use to ensure a good installation and the actual installation process. All of these tools also appear as part of the BDD discussed in Part IX of the book. The text references you to the appropriate information in that part of the book where appropriate.

Download this free guide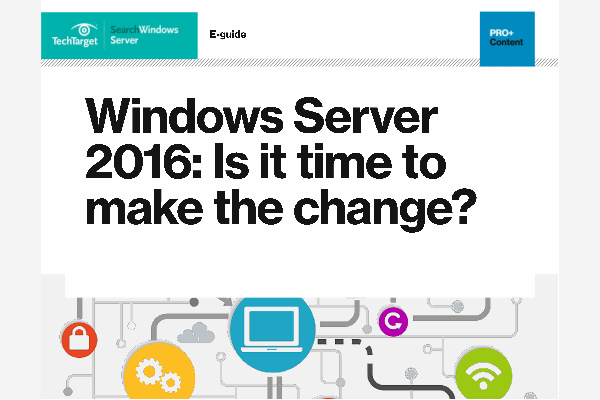 Download: Buyer's Guide to Windows Server 2016 in 2017
You may be due for an upgrade! Check out our full Windows Server 2016 Buyer's Guide to see if a switch to the new server would be the best move for your organization.
By submitting your personal information, you agree that TechTarget and its partners may contact you regarding relevant content, products and special offers.
You also agree that your personal information may be transferred and processed in the United States, and that you have read and agree to the Terms of Use and the Privacy Policy.
NOTE: Upgrade installations commonly require a large amount of space on the boot partition for your system. The boot partition is the partition that contains all of the boot files for the machine, which isn't necessarily the same as the partition where you have installed Windows. Some systems have a small boot partition to allow for a multiple boot scenario or may have a small drive from a previous setup used for booting. A typical Vista install requires about 4 GB on the boot partition for an upgrade. If you have less than 4 GB on the boot partition, you won't be able to perform an upgrade even though everything else is acceptable.
Checking Compatibility with the Application Compatibility Toolkit (ACT)
The Windows ACT has been around for a long time now. It helps you ensure your application runs as intended on the Windows platform of choice. In fact, ACT takes you through an entire testing and deployment process prior to making the target application available to users. You get this tool as part of BDD or you can download it separately at Microsoft's Web site.
Application compatibility checking is essential for Vista because many applications that ran in the past won't run at all. For example, Vista doesn't support the old HLP (help) file format. Consequently, applications that still use help files in the old format aren't as useful as applications that rely on the Compiled Help Module (CHM) file format. Likewise, some applications don't have the publisher identified, which means that you'll have to go through a security check every time you run the application (even if you run it in administrator mode). Although these changes may seem minor, they all add up to applications that simply won't run under Vista.
NOTE: Make sure you download ACT 5.0 for Vista. The ACT 4.1 version is for Windows XP and older versions of Windows. In addition, through some very strange decision process, Microsoft decided to use the .NET Framework 1.1 for ACT 5.0. The program won't even install unless you have the .NET Framework 1.1 installed on your machine (despite the fact that Vista has the .NET Framework 2.0 already installed). You can download the .NET Framework 1.1 here or you can get it from Windows Update. Make sure you also install .NET Framework 1.1 SP 1 or you'll experience problems getting Vista to work with the ACT 5.0 setup program correctly.
After you download ACT, you'll need to install it. ACT requires access to a copy of SQL Server. Fortunately, you can download and install SQL Server Express Edition and Service Pack 1 or higher for this purpose. You won't want to use SQL Server Express for a real-world enterprise installation, but it works fine for a local or small business installation.

The following sections provide details on using ACT for a single machine or in a small business environment. You can find additional information about ACT in the "Testing Applications with Microsoft Application Compatibility Toolkit 5.0" section of Chapter 39.

Configuring ACT

The ACT setup process occurs when you choose Start → Programs → Microsoft Application Compatibility Toolkit 5.0 → Application Compatibility Manager the first time. The following steps help you configure ACT for use.
Click Next to get past the Welcome dialog box. ACT asks what type of installation you want to perform. Generally, you need to use the Enterprise Configuration unless your organization already has a central data store configured and you have access to it.
Select Enterprise Configuration and click Next. ACT requires a database to store the information it collects. You must select a SQL Server instance first, and then create a database within it. Don't select one of the existing databases; the ACT database should appear as a separate entity.
Choose a SQL Server entry from the list. If you don't see your server, click Browse and choose one of the entries in the Select Server dialog box.
Type the name of the database you want to use. The example uses ActData as the name of the database.
Click Next. ACT also requires a log file location for your data entries. The example uses C:ACT_Log.
Type a location for the ACT log file. Click Next. ACT asks which credentials it should use to interact with the system. This step is important because the credentials you choose can affect system security. Always choose Local System when you don't need to access a network drive. Otherwise, choose credentials that have the least privilege necessary to perform the task.
Choose Local System or provide other credentials for ACT to use. Click Next.
Click Finish. ACT is ready to use. You see the Microsoft Application Compatibility Manager window with the Configure tab selected.
Notice that the Log Processing Service settings are blank. ACT doesn't configure itself as a Log Processing Service. In order to collect data and process the resulting logs, you need to set up the Log Processing Service. The following steps get you started.
Click Change Settings. The Settings dialog box appears.
Check This Computer is Configured as a Log Processing Service.
Select the Local System Account unless you need to access a share on a network drive.
Type the path to the local or network share in the Path field. ACT automatically fills in the Share As field when necessary. You can also choose a share by clicking Browse and searching for the share.
Click OK. ACT locates the share and starts the service for you.
Creating a Data Collection Package
ACT must collect data to provide you with reports on application usability. You must define one or more data collection packages that tell ACT how to collect information. ACT 5.0 provides options specifically designed to help you work with Vista. The following steps tell how to create a Vista data collection package.
Choose the Collect tab of the Microsoft Application Compatibility Manager and then click the Data Collection Packages link. If this is your first experience with ACT, the lists in the tab are blank.
Click New. You'll see a New Data Collection Page dialog box. You must define the major category of data to obtain, the time to start collecting the data, the amount of time to collect data, the interval at which to save data, and the location of the data store.
Choose Deploying a New Operating System or Service Pack. This option chooses Vista specific evaluators. Click Advanced to see the list of available evaluators and those chosen by default. Check any additional evaluators you want to use and click OK.
Choose a starting time for the collection. The default setting collects data as soon as you finish installing Vista.
Select a collection duration. The default value of 3 Days is enough to test common applications. You'll need to select longer collection intervals for less used applications. For example, you might perform system maintenance only on Fridays. If you want to test these applications at least twice, you'll need to select an interval of at least 14 Days.
Select an upload interval. Longer intervals tax system resources less, but shorter intervals provide more data points that you can analyze faster. The default setting of 2 hours works in most cases.
Define an output location. Choose the Local (%AllUsersAppData%\Microsoft\Application Compatibility Toolkit 5\DataCollector\Output) setting for individual collection scenarios. As an alternative, choose a nonlocal share for group collection scenarios so the data appears on one centralized location.
Click Save. ACT asks you to choose a location for the self-extracting package.
Accept the default location or choose a network share when you want to use the same package on multiple machines.
At this point, you have a self-extracting package set up for testing purposes. You still need to start it. The executable file you created as part of the package creation process is actually an agent that you must start in order to collect data. After you collect enough data, you can organize it and then perform analysis on it.

Organizing the ACT Data

Now that you have some data to work with, it's time to organize it. The organizational tools appear on the Organize tab of the Microsoft Application Compatibility Manager. You organize the data in two ways. First, you prioritize the data. Second, you categorize the data using categories that you create. The following steps describe how to prioritize the data.
Select the Prioritize folder of the Organize Tab.
Choose an object type, Machine or Application, in the Type of Object field.
Select a priority from the list in the Priority field: Business Critical, Important, Nice to Have, or Do No Include in Reporting.
Highlight a machine or application you want to prioritize and then click Change Priority. Microsoft Application Compatibility Manager changes the priority of the item.
Repeat steps 1 through 4 for every data item collected for the target systems.
The next step is to categorize the data so that you can sort through it with greater ease in the reports. The Microsoft Application Compatibility Manager provides two sample categories for you: Software Vendor and Test Complexity. The Software Vendor has subcategories of 3rd-Party, Custom, and Microsoft Corporation. However, you shouldn't rely on these examples exclusively (you can delete them if you want). To manage the categories you use for reports, select the Create Categories folder of the Organize tab. Here are the basic tasks you can perform.
Adding a Category or Subcategory. Type the new category or subcategory you want to create in the appropriate Name field and click Add.
Removing a Category or Subcategory. Highlight the category or subcategory that you want to remove and click Remove.
Renaming a Subcategory. Highlight the subcategory you want to rename and click Rename. Type the new name in the Rename Sub-Category dialog box and click OK.
Categories exist completely apart from priorities. Consequently, each data item you collect should have both a category and a priority. ACT assigns the All category to all data items at the outset, which means you always see them. The following steps help you categorize the data you collect.
Select the Assign Categories folder of the Organize tab.
Choose an object type, Machine or Application, in the Type of Object field.
Select a category in the Category field. You can only select categories that you have already created. When you select the All category, you can't select a subcategory.
Select a subcategory in the Subcategory field when required.
Highlight a machine or application you want to categorize and then click Assign Category. Microsoft Application Compatibility Manager changes the category and optionally the subcategory of the item.
Repeat steps 1 through 5 for every data item collected for the target systems.
Performing Analysis of the ACT Data
Creating a report in the Microsoft Application Compatibility Manager is the final step of the process. Performing this part of the task is painless. Begin by selecting the Analyze tab. The left side of this tab contains fields that help you create the report. The following steps help you configure a report.
Select a report type such as Select Deployment Type, Operating System, or Update Impact Analysis.
Select a subreport type, such as Windows Vista or Windows XP for the Operating System report.
Choose the source of the report data such as Applications, Computers, or Web Sites.
Choose an output format for the report such as Risk Rating, Priority, Deployment Status, Software Vendor, or Test Complexity. At this point, you see the report and report statistics. The report appears in the area in the right pane, while the report statistics appear below the selection fields in the left pane.
At this point, you can save the report for future use by clicking Save Report. You can also open existing reports by clicking Open Report. The Export Data option serves a different purpose by letting you export your data to another application. For example, you could use Excel to perform further analysis of the data.

Sometimes you'll still have too much data to view even with the categories and priorities you've applied. In this case, you can click Apply Filter to add filtering to the output. When you want to see all of the records again, click Show All.

Continue to Upgrading to Windows Vista: Migrating settings using the Microsoft Windows User State Migration Tool.

Mark Minasi is a best-selling author, commentator and all-around alpha geek. Mark is best known for his books in the Mastering Windows series. What separates him from others is that he knows how to explain technical things to normal humans, and make them laugh while doing it. Mark's firm, MR&D, is based in Pungo, a town in Virginia's Tidewater area that is distinguished by having one -- and only one -- traffic light.
Copyright 2007 TechTarget
Dig Deeper on Microsoft Systems and Network Troubleshooting
PRO+
Content
Find more PRO+ content and other member only offers, here.