Uptime Software Inc.'s up.time is systems management software that monitors and reports on servers, applications and databases on multiple operating system platforms.
Up.time was designed to allow admins to instantly identify events in their IT infrastructures with deep resource, process and service metrics.
The tool can be easily tested and implemented without consultant help for deployment and maintenance. It does most of the work itself with automated report creation and distribution, IT service and element discovery, virtual machine discovery and recovery, and restart actions.
New features in up.time include the following:
A console and dashboard to help administrators in capacity planning and preventative maintenance, thus providing a view of the entire infrastructure.
Improved service-level management.
Specialized virtualization reporting and monitoring features.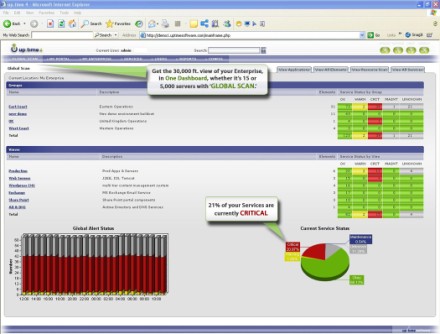 System requirements: Supports AIX, Solaris, Windows, Linux, HP-UX, VMware and Novell.
Pricing: Starts at $695 per server.

This was first published in January 2008