INE for Windows is a network emulation software package that simulates wide area, wireless, satellite or remote network conditions on a Local Area Network.
iTrinegy Network Emulator for Windows, from iTrinegy (formerly Itheon Networks), lets application developers and testers understand how an application will perform before it is deployed to the production environment. As a result, developers can spot network-related performance issues and test applications in a controlled environment, avoiding potential conflicts and remediation work once the application is running in production.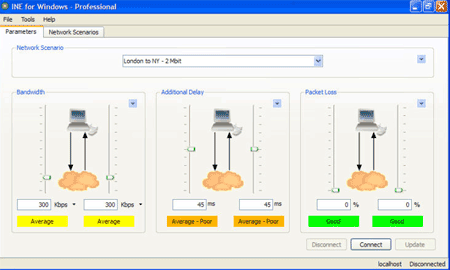 Figure A: iTrinegy Network Emulator for Windows
INE for Windows also lets users download pre-defined network scenarios from Itheon Networks to a desktop to test out how an application will behave in varying network conditions.
Features in iTrinegy Network Emulator for Windows allow developers and users to:
Check how an application will perform in non-LAN environments by simulating network conditions including wide area network, wireless and local area network.
Create and save network scenarios for subsequent reuse.
Test network simulation with minimal knowledge of network emulation products.
System requirements: Windows XP with Service Pack 2 or Server 2003, Windows Vista.
Pricing: INE for Windows Express version starts at $500 per PC installed.
This was first published in January 2008