Utilizing Windows Server 2012 without the GUI
Access this exclusive guide to discover key Windows Server 2012 GUI workarounds that can help you avoid the Modern UI.
Looking for something else?
TECHNOLOGIES

COMPANIES

PRODUCTS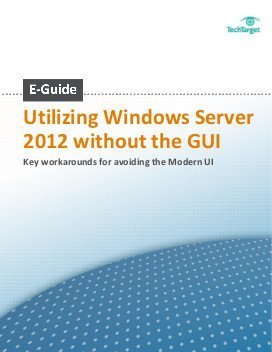 Download this valuable guide on Windows Server 2012 GUI workarounds
The Windows Server 2012 GUI is designed to simplify desktop and command line interfaces, but is it too simple for its own good? Many IT admins seem to think so – making GUI workarounds an increasingly hot topic across the industry.

For this reason, our experts compiled this exclusive guide to reveal essential tips and tricks that can help IT pros like yourself take full advantage of Windows Server 2012 without using the Modern UI.

Download this comprehensive guide – by clicking 'Go to article' on the right – to learn how to avoid the Windows Server 2012 GUI.
Dig deeper on Windows Server Monitoring and Administration