News
Stay informed about the latest enterprise technology news and product updates.
Windows users split on certification
This is the fourth article in the series.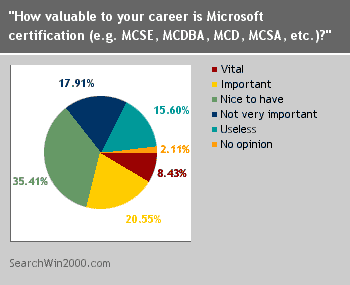 Continue Reading This Article
Enjoy this article as well as all of our content, including E-Guides, news, tips and more.
By submitting your personal information, you agree that TechTarget and its partners may contact you regarding relevant content, products and special offers.
You also agree that your personal information may be transferred and processed in the United States, and that you have read and agree to the Terms of Use and the Privacy Policy.
How important is it to be certified to use Microsoft products? TechTarget survey respondents were almost evenly split, with 29% considering it "vital" or "important," 35% feeling it was "nice to have," and 34% calling it "not very important" or "useless."
Certification is becoming more important to Gerry Kopelman, because he thinks it will help his small technology consultancy stand out from the competition as it tries to attract new clients. Certification is more important to these new customers, he figures, than to existing customers who already know the quality of his company's work. "Though none of us has any [Windows certification currently], it may well be that we're going to get it," he said.
Jim Voorhees, a senior systems analyst at an IT services firm, thinks Microsoft certification is as important as it always was for the industry as a whole. But it is less important for him because he has "more experience now than when I was certified, and experience trumps certification."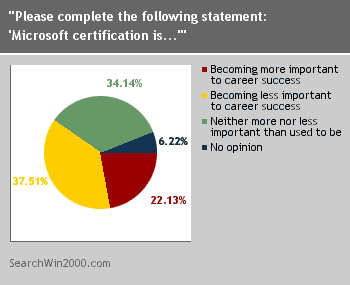 For Connie Eaton, a senior business analyst at a small manufacturing firm, certification is just about useless, because a person's knowledge, character and personality are more important than the "paper" of a certification credential.
"We see people coming through here looking for jobs all the time who have the certification and not a lick of sense," she said. "But on the other hand, if someone came in and we liked them, and they had it, we wouldn't hold it against them."
About the author:
Robert L. Scheier is a former technology editor at Computerworld, analyst with the Hurwitz Group, and is now a freelance writer and editorial consultant in Boylston, Mass. He can be reached at rscheier@charter.net
Dig Deeper on Microsoft Certifications
PRO+
Content
Find more PRO+ content and other member only offers, here.