News
Stay informed about the latest enterprise technology news and product updates.
Screech! Users hit the brakes on Linux server migrations
Reversing last year's trend, fewer Windows administrators say they are going to make the switch to Linux.
The number of Windows administrators who are seriously considering migrating to Linux has fallen off considerably...
Continue Reading This Article
Enjoy this article as well as all of our content, including E-Guides, news, tips and more.

By submitting your personal information, you agree that TechTarget and its partners may contact you regarding relevant content, products and special offers.

You also agree that your personal information may be transferred and processed in the United States, and that you have read and agree to the Terms of Use and the Privacy Policy.

over the past year, according to the results of SearchWin2000.com's 2004 Microsoft Report Card survey.

In the past two years, the survey asked IT administrators and managers to rate their interest in moving over to Linux. In 2003, the number of Windows pros interested in

Linux spiked upward, only to drop back down again in 2004.

IT industry players say that interest in Windows-to-Linux server migration may be waning because of recent improvements to Microsoft's flagship product, the cost implications of training users on a new platform, and because old habits really do die hard.

Tony Iams, a senior analyst with D.H. Brown Associates in Port Chester, N.Y., recently spent a great deal of time talking to users that had migrated from NT4 to Linux and from NT4 to Windows Server 2003. One thing that was clear from those conversations, he said, is that Microsoft has made considerable progress in its quest to calm user concerns about security and manageability.

A craving for stability

Iams, who has studied operating system migration issues for several years, said that during the late 1990s, many Windows shops migrated to Linux because they wanted an OS that was more stable, secure and more easily managed from a remote location.

"Starting with Windows 2000 and then continuing on to Windows Server 2003, Microsoft started delivering products that gave users similar levels of reliability and stability and so on," Iams said.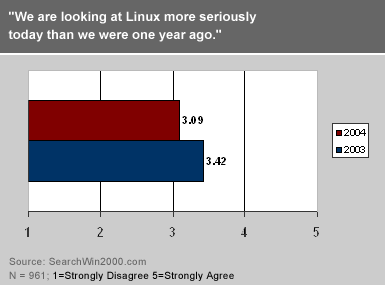 Microsoft has added several functional capabilities to its OS in recent years that were designed to make the system more secure, including the Common Language Runtime (CLR) and enhancements to Active Directory.
These enhancements went a long way toward addressing users' security concerns, but questions still remain when it comes to the issues of inadvertent vulnerabilities, worms and viruses, Iams said. "The security question isn't going to go away right away," Iams said. "But the pain that you had four and five years ago has really been diminished a lot."
Improved remote capabilities
Another hot-button concern that Microsoft has addressed in the most recent releases of Windows was the issue of remote manageability, he said.
"If you really wanted to do anything on an NT server, you had to go to the server itself," he said. "In Windows Server 2003, Microsoft built in many functions that let you manage the server remotely in all kinds of ways."
Users interviewed said they weren't surprised that longtime Windows shops are reluctant to move their servers over to Linux because they don't want to incur the cost of training IT staff on a new platform. New companies with new applications are probably more likely to implement server-side Linux, they said.
Alex El Homsi, the president and chief technology officer of Woburn, Mass.-based Trilog Group Inc., said people are choosing to remain with Windows simply because it's what they're used to, and making a switch would cost them in terms of lost productivity. "For them, it's not the cost of the operating system," El Homsi said. "The cost for them is the time they're going to spend learning the operating system."
This competition is far from over
Ken Milberg, president of Unix Solutions Group, a consultant firm specializing in inter-platform migration, said that it's important not to count out Linux just yet. The number of people interested in changing to Linux may be falling off in Microsoft's installed base, but Linux is still making great strides overall, he said.
"I don't know too many people that are running a mission critical database in a Microsoft environment," Milberg said.
The consultant also had some advice for companies that want to press ahead with a Windows-to-Linux migration. Before beginning the process, he said users should do a technical assessment inventory of everything in the data center, he said. Make sure all of the compiled code is accounted for so that this code is available after porting systems to Linux.
"The planning is really the key part of it, but it's been done," Milberg said.
Linux on the desktop
For enterprises that want to take the bold step of migrating their end users' desktops from Windows to Linux, consider products like Samba, analysts said. Samba software sits between Linux servers and the desktop, and allows end users to maintain most of their Windows environment. However, those enterprises will need to implement new personal productivity suites, such as StarOffice of OpenOffice, in place of Microsoft Office.
"It's indistinguishable from a Windows server in terms of your file shares," Iams said.
And transparency is what separates the bold migration from the blundering migration.
Dig Deeper on Windows Operating System Management
PRO+
Content
Find more PRO+ content and other member only offers, here.