Group Policy Learning Guide
This guide introduces you to how Group Policy works, explains best practices and pitfalls to avoid and provides troubleshooting help and advice. You'll find Group Policy articles, tutorials, tips, tools, white papers, expert advice and more to pump up your Group Policy know-how quickly.
This SearchWinIT.com guide introduces you to Microsoft Group Policy, explains best practices and pitfalls to avoid, and provides troubleshooting help and advice. You'll find Group Policy articles, tutorials, tips, tools, white papers, expert advice and more to pump up your Group Policy know-how quickly. Drop us an email to let me know what other learning guides you'd like to see on SearchWinIT.com.
Continue Reading This Article
Enjoy this article as well as all of our content, including E-Guides, news, tips and more.
By submitting you agree to receive email communications from TechTarget and its partners. Privacy Policy Terms of Use.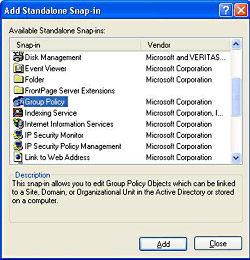 Microsoft: "Group Policy is one of the key management technologies provided for change and configuration management in Microsoft Windows operating systems. Administrators use Group Policy to specify options for managed configurations for groups of computers and users. Group Policy includes options for registry-based policy settings, security settings, software installation, scripts, folder redirection, Remote Installation Services, and Internet Explorer maintenance."
Group Policy Planning and Architecture
Group Policy Administration and Operation
Managing your Active Directory (SearchWinIT.com)

We've gathered together our best Active Directory administration and management resources to help you get the most out of all the new AD features and services.
Creating custom Group Policy templates . (SearchWinIT.com)

Tips on using Group Policy to create custom policy templates to deploy features missing in Windows NT, such as Automatic Windows Updates or Windows Firewall settings.

Chapter 7: Managing and maintaining Group Policy (McGraw-Hill/Osborne Media)

This chapter offers the inside scoop on little-known tools and methodologies, along with helpful tips and tricks on efficient Group Policy management.

Understanding group policy (James Michael Stewart, SearchWinIT.com)

A PowerPoint presentation for understanding Microsoft Group Policy.

Control your Group Policy, don't let it control you. (Laura Hunter, SearchWinIT.com)

Laura Hunter breaks down the use of GPOs within Active Directory.

Improving the default domain controller Group Policy Objects. (James Michael Stewart, SearchWinIT.com)

When Windows Server 2003 is used to establish an Active Directory-based network, there are two default GPOs: the default domain GPO and the default domain controller GPO. This article recommends several ways to improve upon the default settings in these two GPOs.

How to offer Remote Assistance to LAN users with Group Policy (SearchWinIT.com)

A brief tip on how to create a Group Policy Object (GPO) to offer remote assistance to other LAN users.

Managing users' configurations by policy (Microsoft)

Information on setting policies to define and maintain a particular Microsoft Office 2003 configuration on user computers.


With Group Policy Objects in Windows, there is a "Hide these specified drives in My Computer" option that lets you hide specific drives. However, it may be necessary to hide only certain drive, but retain access to others.

Ways to open the Group Policy snap-in in Windows XP. (Microsoft)

You can open Group Policy in several ways, depending on the action that you want to perform and the object to which you want to apply it. The ways in which you can open Group Policy are described in this table.

Pros and cons of using ADM templates to customize Active Directory group policies (Derek Melber, SearchWinIT.com)

Expert Derek Melber explains how to customize Registry settings to ice the Active Directory cake with newfound power and flexibility.
Group Policy Security Issues

Windows provides administrators with several different utilities that can be used for configuring computer security throughout an enterprise. This article discusses these utilities and provides some usage guidelines.

Ten attacks you can easily avoid with Group Policy (Kevin Beaver, SearchWindowsSecurity.com)

You should always run Group Policy on your Active Directory-based systems. If you don't, plenty of attacks are just waiting to happen inside your network.

Group Policy: The final consideration in securing Active Directory (Derek Melber, SearchWinIT.com)

Group Policy considerations can't be left out of the equation when addressing Active Directory security. Expert Derek Melber gives you an idea of some things to think about when securing Active Directory.

Protecting against anonymous connections using GPOs (Derek Melber, SearchWinIT.com)

How to use Group Policy Objects (GPO) to protect your Windows computers from insecure anonymous connections.
Group Policy Support and Troubleshooting
Advice for troubleshooting Group Policy for Windows Server 2003 (SearchWinIT.com)

A rundown of expert-preferred tools and procedures for troubleshooting Microsoft Group Policy.

Group Policy Knowledgebase articles (Microsoft)

Get Group Policy help from others who have been there at this knowledgebase from Microsoft.

Troubleshooting Group Policy in Windows 2000 (Microsoft)

This technical white paper explains how IT administrators can troubleshoot Microsoft Windows 2000 Group Policy.


This guide provides a framework for troubleshooting Group Policy in an Active Directory environment, including checklists for quick fixes, a summary of troubleshooting tools, flowcharts for root cause analysis and more.


Expert Gary Olsen walks through the basics of the Userenv.log file and shares some useful case studies that illustrate how to use Userenv to debug problems involving the user environment.
Dig deeper on Microsoft Group Policy Management