Get started
Bring yourself up to speed with our introductory content.
Know-IT-all Chapter Quiz #17 Microsoft Windows Server 2003 Unleashed
Think you know everything about Performance Optimization for Windows Server 2003? Don't be so sure! Check your know-how and get a chance to win a copy of Microsoft Windows Server 2003 Unleashed by Rand Morimoto, et al., courtesy of SAMS Publishing.
This Article Covers
RELATED TOPICS
Looking for something else?

Download this free guide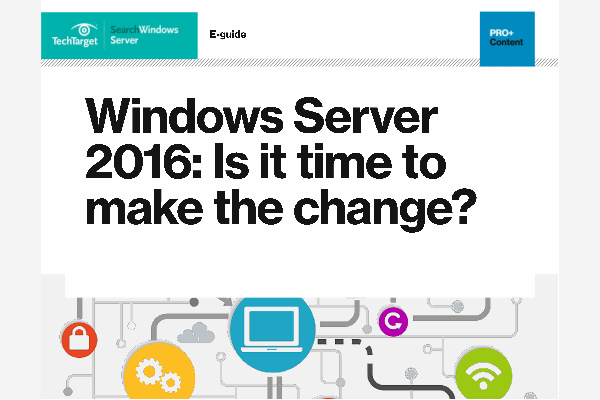 Download: Buyer's Guide to Windows Server 2016 in 2017
You may be due for an upgrade! Check out our full Windows Server 2016 Buyer's Guide to see if a switch to the new server would be the best move for your organization.

By submitting your personal information, you agree that TechTarget and its partners may contact you regarding relevant content, products and special offers.

You also agree that your personal information may be transferred and processed in the United States, and that you have read and agree to the Terms of Use and the Privacy Policy.

Think you know everything about Performance Optimization for Windows Server 2003? Don't be so sure! We challenge you to test your know-how by taking our new quiz! Share the results with us and get a chance to win a copy of Microsoft Windows Server 2003 Unleashed by Rand Morimoto, et al., courtesy of SAMS Publishing. All answers to this quiz are found in the June 18-24 featured chapter download, but be warned - this quiz is designed to be challenging! Good luck!

How to take the quiz:
- After reading the question, note the letter of your answer. Check your answers by clicking the link to the answer key at the end of the quiz.
- Send us an e-mail telling us how you did to participate in our book giveaway this week.
NOTE: The weekly prize drawing is random - your score will not affect your chances of winning.
- To read more about a topic, open the chapter and locate the indicated page after each answer.


Chapter Quiz #17

1. AD replication performance has many variables. Which option is NOT one of them?

a. Intrasite vs. intersite replication
b. The compression being used (if any)
c. Available bandwidth
d. Inbound vs. outbound replication traffic
e. Answers C and D
f. It's a trick question - all answers (A-D) are AD replication variables.

2. To preserve resources, you probably have Physical and Logical Disk objects turned off. What command activates them on a remote machine that isn't running Windows Server 2003?

a. diskperf -y
b. diskperf -y \\mycomputer
c. diskperf -n \\objects
d. diskperf -y \\active

3. What does the term "thrashing" mean?

a. It describes a system experiencing more than 100 pages per second.
b. It's what rebellious software engineers do on skateboards after work.
c. It's the result of a memory loop bug that consumes all free system memory.
d. It's a specific loop triggered by a bug in UDPv6 that forces a rapid flow of connection attempts to random subsystems.

4. There are two versions of Network Monitor. One is bundled within Windows Server 2003. Where is the other version?

a. It is bundled with the Performance Console.
b. It is a part of the Microsoft Management Console.
c. It is a part of the Systems Management Server.
d. It can only be downloaded from http://microsoft.com/windows/support/download/winserv2003/monitor

5. When performing legacy DNS replication you will probably come across something called "AXFR". What is this?

a. AXFR is the full zone transfer that occur on the initial transfer.
b. It's an acronym for "Accelerated eXchange Format Relay".
c. AXFR is short for the incremental zone transfer that takes place after the initial transfer.
d. It is a safety protocol to ensure data packet integrity from source to destination.



CLICK HERE FOR ANSWER KEY AND TO WIN A FREE BOOK!



Dig Deeper on Windows Operating System Management
PRO+
Content
Find more PRO+ content and other member only offers, here.