Get started
Bring yourself up to speed with our introductory content.
Know-IT-all Chapter Quiz #24 Hardening Windows Systems
Think you have the skills to keep your Windows network secure? Take this quiz to find out if you're doing the right things to harden your Windows system! Send your score to us for a chance to win a copy of Hardening Windows Systems by veteran site expert Roberta Bragg, courtesy of McGraw-Hill/Osborne Media.
This Article Covers
RELATED TOPICS
Looking for something else?

Download this free guide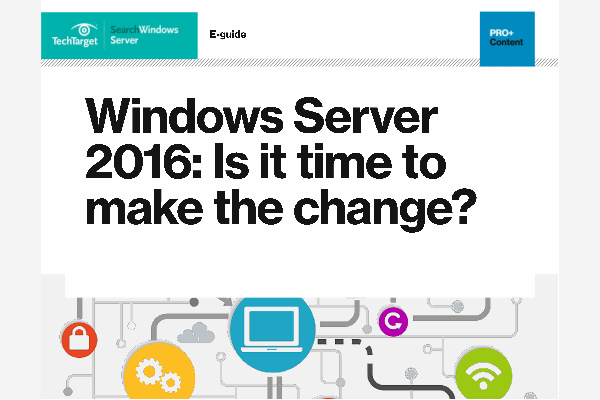 Download: Buyer's Guide to Windows Server 2016 in 2017
You may be due for an upgrade! Check out our full Windows Server 2016 Buyer's Guide to see if a switch to the new server would be the best move for your organization.

By submitting your personal information, you agree that TechTarget and its partners may contact you regarding relevant content, products and special offers.

You also agree that your personal information may be transferred and processed in the United States, and that you have read and agree to the Terms of Use and the Privacy Policy.

Think you have the skills to keep your Windows network secure? Take this quiz to find out if you're doing the right things to harden your Windows system! Send your score to us for a chance to win a copy of Hardening Windows Systems by veteran site expert Roberta Bragg, courtesy of McGraw-Hill/Osborne Media.
All answers to this quiz are found in the August 6-12 featured chapter download, but be warned - this quiz is designed to be challenging! Good luck!

How to take the quiz:
- After reading the question, note the letter of your answer. Check your answers by clicking the link to the answer key at the end of the quiz.
- Send us an e-mail telling us how you did to participate in our book giveaway this week.
NOTE: The weekly prize drawing is random - your score will not affect your chances of winning.
- To read more about a topic, open the chapter and locate the indicated page after each answer.


Chapter Quiz #24

1. When should you disable EFS?

a. Always.
b. Always, unless you have implemented a policy for EFS management that includes recovery procedures and key backups.
c. Never.
d. Never, unless you have implemented a policy for EFS management that includes recovery procedures and key backups.

2. IPSec policies can be implemented on these platforms, except one. Which?

a. Windows 2000
b. Windows Server 2003
c. Windows XP
d. It's a trick question - IPSec can be implemented on all three.

3. How many technical password policies can you run within a Windows domain?

a. 1
b. 2
c. 4
d. 5

4. Wireless networks should have...

a. PEAP.
b. 802.1x authentication.
c. REDOUBT 2.x or higher.
d. PEAP and 802.1x authentication.
e. PEAP and REDOUBT 2.x or higher.
f. 802.1x authentication and REDOUBT 2.x or higher.
g. All the above.

5. Password policies set at the OU level affects...

a. Only that particular workstation.
b. Only local user accounts in the OU.
c. Only users within that GPO realm.
d. All users on the network.



CLICK HERE FOR ANSWER KEY AND TO WIN A FREE BOOK!



Dig Deeper on Enterprise infrastructure management
PRO+
Content
Find more PRO+ content and other member only offers, here.