Storage Hardware
Gold Award:
Alacritech SES2102ET (iSCSI controller)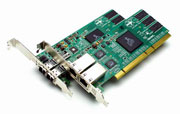 Judges bestowed the Gold Award in SearchWinSystems.com's Products of the Year for Storage Hardware upon the SES2102ET iSCSI controller from Alacritech Inc. The company bills its accelerator board as the first dual-port iSCSI controller with support for PCI Express bus technology.
The Alacritech SES2102ET received high marks from the judges for innovation and performance. According to Alacritech, its iSCSI accelerator has been independently tested and proven to enable more than twice the single-port transaction rate of existing ASIC-based iSCSI host bus adapters. That makes possible some 54,000 transactions per second more than its closest competitor.
Targeting Windows-based servers, the company touts its iSCSI cards as the only such product on the market to offer native hardware acceleration for Microsoft iSCSI Software Initiator, failover support and system management functionality.
Alacritech iSCSI accelerators extend the storage scalability of Windows-based servers with support for industry-standard Ethernet failover and link aggregation. Link aggregation allows the connection of multiple iSCSI accelerators in order to maximize server availability and increase IP storage bandwidth.
Pricing: The Alacritech SES2102ET iSCSI controller is priced at $904 to $1,135.