Remote Control Software
Gold Award:
Citrix GoToMyPC Corporate 5.0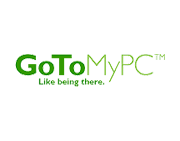 Judges unanimously bestowed the Gold Award in SearchWinComputing.com's Remote Control Products of the Year 2006 category to Citrix Online's GoToMyPC Corporate 5.0. They said that the software provides the simplest, most reliable and most cost-effective secure remote access to a desktop PC.
The judges rated GoToMyPC Corporate as the best overall value and utility in this category for several reasons, the main one being the ease of installing it, since it does not have to be manually configured. They also cited the software's compatibility with existing firewall, security and network configurations. Finally, because GoToMyPC Corporate is a managed service, companies deploying it do not incur costs for additional hardware, software or support.
GoToMyPC Corporate also features an online Administration Center from which a systems administrator can control a user's accounts, enabling companies to easily permit or disable access to the service and/or specific features for all employees. Administrators can add, suspend or cancel a user's account, check usage statistics, run reports showing individual or company usage and disable/enable specific features and security options for users.
The judges also found the product to be extremely secure. Security features include end-to-end 128-bit AES encryption and authentication, nested access codes, keyboard and mouse locking, screen blanking and an SSL Web site. Overall, the judges felt that GoToMyPC Corporate is a good fit for organizations that require the highest level of security and centralized control over remote workers.
Pricing: GoToMyPC Corporate is licensed on a per-PC basis with packages starting at the 20-PC level. Block pricing is available and quantity discounts begin at 60 licenses. The license includes unlimited remote access to host PCs; training (if needed); an Account Manager to assist during setup and for the life of the account; unlimited software and service upgrades; and unlimited 24x7 technical support and maintenance.