Storage Hardware
Bronze Award:
EMC Centera CAS system for Mid-size Enterprises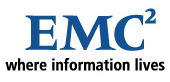 Judges gave the Bronze Award to EMC Corp.'s Centera content addressed storage (CAS) system for Mid-size Enterprises. This lower-capacity, lower-priced addition to EMC's Centera family of enterprise archive hardware was announced in May.
Judges marked EMC's Centera CAS (content addressed storage) system at the top of the scale when it came to innovation and functionality.
EMC's CAS system platform addresses customer requirements for storing important business records, such as archived e-mail from Microsoft Exchange, in an active enterprise archive. The smaller configuration addresses growing archiving needs for unchanging digital assets of mid-sized enterprises with a more cost-effective solution while delivering the same content management, self-management and assured content authenticity for regulatory compliance features available in all Centera configurations.
Pricing: The EMC Centera for Mid-size Enterprises is available in two types of 4Node configurations with two redundant network switches. A system in a full-height EMC Titan Rack is priced at $92,200. The same configuration with mounting hardware for other industry-standard racks lists for $87,600.