Disaster Recovery
Silver Award:
Ecora Auditor Professional Version 4.0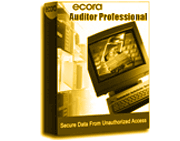 Although disaster recovery and prevention is only part of the product's capabilities, the judges were sufficiently wowed by Ecora Software Corp.'s Auditor Professional Version 4.0 to give it the Silver Award in SearchWinComputing.com's disaster prevention and recovery category.
The product collects information from Windows, Unix, Active Directory and Exchange systems, then generates the most up-to-date disaster recovery documentation. Ecora designed the product for companies that need comprehensive documentation to restore their critical business and IT services and to validate they've been restored correctly.
One judge called it a "quality information tool, great for auditing, change and asset management and compliance-related and recovery issues."
The product can come to the aid of systems administrators by taking their companies from documenting servers when it can to automating the process on a weekly basis. As soon as it's deployed, Auditor begins constructing a view of configurations, changes, compliance management and disaster recovery procedures.
In terms of Windows, Ecora collects information from Active Directory, server hardware, Windows settings, domain users and global users, local users and groups, WINS server settings, DHCP server settings, DNS server settings, file and print information, folder/file replication, SNMP and Terminal Server.
Pricing: Each copy of Ecora Auditor Professional is priced at $995 for one to 10 servers; $895 for 11 to 25 servers; $845 for 26 to 50 servers; and $795 each for 51 to 100 servers.