Group Policy Management
Silver Award:
FullArmor IntelliPolicy for Clients 1.5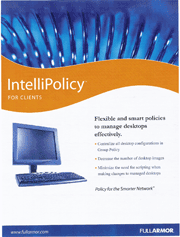 Also a strong contender in the Group Policy Management category, FullArmor's IntelliPolicy for Clients 1.5 takes the Silver Award. It provides location-aware and intelligent targeting, as well as new security settings to native Group Policy so you can centrally create and enforce exception-based policies adapted to business and security needs.
Lagging only slightly behind our Gold winner in the areas of ease of use and support, IntelliPolicy for Clients 1.5 is natively integrated with Microsoft Active Directory's Group Policy infrastructure. IntelliPolicy appears as an icon within the Microsoft Group Policy Management Console (GPMC). Its functionality and controls become part of native Group Policy Objects and are enforced with native Group Policy settings. The tight integration with native Group Policy makes it possible for IntelliPolicy settings to be included in reports generated by the GPMC reporting engine.
Another plus for IntelliPolicy is that it prevents confidential data from being copied and stolen by locking down removal storage devices like USB drives. It can also enforce privilege on an application-by-application basis, rivaling competitors that only support privilege management on a user basis. In addition, administrators can apply a policy setting based on the state of the machine or network environment, such as the presence of some prerequisite software or hardware on the machine, a specific Service Pack or operating system hotfix.
The software includes a feature whereby companies can automatically deploy and enforce configuration policies from within Active Directory when users log on to their desktops, decreasing network vulnerability to changes made by end users.
Pricing: IntelliPolicy is priced at $7 per user; support and maintenance costs $1.25 per user per year.