Server Monitoring Tools
Bronze Award:
Heroix Longitude V3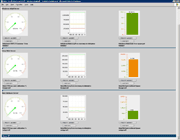 The Bronze Award winner in SearchWinComputing.com's Server Monitoring Products of the Year 2006 category is Heroix Inc.'s Longitude V3.
What most impressed the judges is that Longitude is agentless, yet full-featured, application and system monitoring and reporting software. Through Event Correlation, it conveys the business impact of technical issues by combining events across different applications, databases, servers and platforms. It enables users to detect situations unique to their business, customize notification with their own instructions, and embody staff expertise, without needing to learn a scripting language.
In addition, SLA Monitoring, Reporting & Events show performance from a business perspective and help IT organizations anticipate user as well as management issues. SLAs translate technical metrics to a Good/Degraded/Unacceptable assessment of service delivery and provide a clear picture of how well IT is performing against stated objectives. New in V3 is a graphical SLA Event Monitor that shows all SLA state transitions.
Pricing: Basic OS monitoring starts at $299 per monitored system.