Servers
Gold Award:
IBM BladeCenterHS20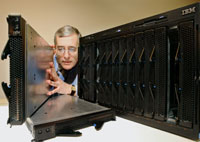 In the Server category for SearchWinSystems.com's Products of the Year, judges bestowed the Gold Award upon IBM's BladeCenter HS20. This server, which this year came out in a new design that offered customers the ability to add two internal SCSI drives, rode a top rating in the category of innovation to eke out its top rating over the other servers in the competition.
BladeCenter HS20 is a two-way Intel Xeon processor-based unit that holds up to 84 servers in an industry-standard rack or up to 80 in a telco-industry standard 84-inch rack. The new version of the HS20 now supports two internal Ultra320 SCSI drives and offers the capability of adding two hot-swap Ultra320 drives with the Blade SCSI Expansion Unit. This allows the BladeCenter chassis to fit 14 SCSI-based blades. As a result, the new SCSI drives can provide up to 85% more speed and up to 83% more capacity than the previous configuration, which employed IDE drives.
In addition, customers can now mirror each blade's operating system, simultaneously attaching to a SAN to run high-availability applications. The bottom line is that judges were impressed by the capabilities added from the new design to give the product a high score in overall value.
IBM added new I/O expansion flexibility to the BladeCenter HS20, allowing customers to add two hot swappable SCSI disk drives while doubling the number of Ethernet (to eight) or Fibre Channel port connections (to four) to each blade.
Pricing: Prices for the various IBM BladeCenter HS20 models range from approximately $1,650 to $2,670.