Desktop Management
Gold Award:
Winternals Software Recovery Manager 2.0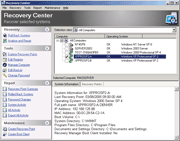 Our judges unanimously bestowed the Gold Award in SearchWinSystems.com's Desktop Management Products of the Year category on Recovery Manager 2.0 from Winternals Software. The software package helps companies recover data from Windows servers, workstations and laptops, reducing system recovery time to minutes and preventing data loss in situations when Windows computers are rendered unbootable or unstable.
Recovery Manager 2.0 received top scores from all three judges in the areas of innovation, functionality and value.
The software is part of a portfolio of tools from Winternals aimed at administrators. One judge noted that several of these tools "have saved his bacon more than once." Recovery Manager 2.0, which was released last April, is an upgrade whose new features include the ability to recover data from not just operating system files, but program files, user Registry settings and user data as well.
IT administrators can configure recovery sets to add or omit any combination of files, directories, Registry keys and values. The program offers additional protection for mobile PCs, allowing such devices to locally generate and restore recovery points even when disconnected from the network.
Winternals also added Recovery Point Explorer, a feature that offers a means of preventing overwriting of undamaged files and the ability to protect any system that is accessible via TCP/IP.
One difference between Recovery Manager 2.0 and conventional recovery methods is that Winternals' software tracks and records only essential setting files. It captures only a single instance of any duplicated file. Because of these efficiencies, the snapshots, called Recovery Points, are small compared to hard drive images. The result is a reduced storage requirement and less network overhead.
Another difference is that Recovery Manager does not overwrite data and system settings.
Pricing: Pricing starts at $39 per workstation and $399 per server.