Problem solve
Get help with specific problems with your technologies, process and projects.
Configuring Networking Settings
This section explains how to get a server running properly on a network.
The following is tip #5 from "10 tips in 10 minutes: Configuring Windows 2000 Server," excerpted from Chapter 6...
Continue Reading This Article
Enjoy this article as well as all of our content, including E-Guides, news, tips and more.
By submitting your personal information, you agree that TechTarget and its partners may contact you regarding relevant content, products and special offers.
You also agree that your personal information may be transferred and processed in the United States, and that you have read and agree to the Terms of Use and the Privacy Policy.
in the book Microsoft Windows 2000 Server Administrator's Companion, Second Edition, published by Microsoft Press.
---
Although most computers will be properly set up for network access during Windows Setup, you might need to change these settings at some point—possibly immediately if the specified settings were wrong or incomplete. This section explains how to get a server running properly on a network.
Changing Your Network Identity
Change is sometimes necessary—although with a server, it's better to spend your time planning first than to have to make changes later. However, as Robbie Burns might have said while reconfiguring his server, "The best laid schemes o' mice and men gang aft a-gley." So even with careful planning, you can discover that a machine needs to have a different name or needs to be joined to a different domain.
To change the identity of a server that isn't a domain controller, log on using an administrator's account and follow these steps:
Open the System tool in Control Panel, and then click the Network Identification tab.
To change your computer name and domain or workgroup membership, select Properties. Then enter the new name for your computer in the New Computer Name text box in the Identification Changes dialog box, as shown in the image below.

To change the domain or workgroup you belong to, choose either the Domain option or the Workgroup option, and then type the domain or workgroup name in the text box.
Click More to manually specify the domain name for your computer and to preview the NetBIOS name for your system. Click OK when you're finished.
Configuring Network Components
To add or change the settings for core network components such as clients, services, and protocols, open the Network and Dial-Up Connections folder, right-click the Local Area Connection icon, and choose Properties from the shortcut menu. This procedure opens the Local Area Connection Properties dialog box shown in the image below, which you can use to view and change your server's networking components.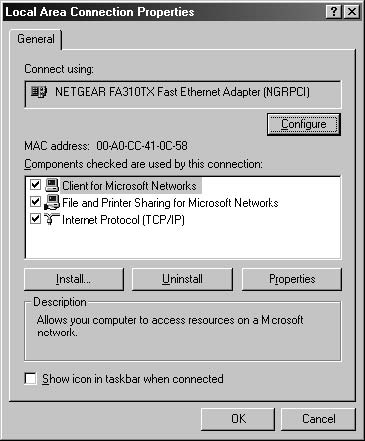 The top of the dialog box shows the network adapter to which you are binding networking services. Beneath that is the media access control (MAC) address for the network interface card, the unique identifier of your network card that is used for communications with other hosts in your subnet.
To install a network component, select Install, choose the type of component you want to install (Client, Service, or Protocol), and then click Add. Select the component from the list presented and click OK. To configure the component (if the component has a configurable option), select the component and click Properties.
Note: If you have a multihomed server (a server with more than one network adapter), give your local area connections a name indicating to which network the adapters are connected. To do so, right-click the connections in the Network and Dial-Up Connections folder and choose Rename from the shortcut menu.



10 tips in 10 minutes: Configuring Windows 2000 Server



Introduction
Tip 1: Checking for setup problems
Tip 2: Configuring devices
Tip 3: Using Device Manager
Tip 4: Troubleshooting devices
Tip 5: Configuring Networking Settings
Tip 6: Using the Windows 2000 Configure Your Server Tool
Tip 7: Configuring the first server on your network
Tip 8: Performance and memory tuning
Tip 9: Updating Windows
Tip 10: Securing Windows

---
This chapter excerpt from Microsoft Windows 2000 Server Administrator's Companion, Second Edition by Charlie Russel, Sharon Crawford and Jason Gerend is printed with permission from Microsoft Press, Copyright 2002. Click here for the chapter download or to purchase the book.

Dig Deeper on Microsoft Group Policy Management
PRO+
Content
Find more PRO+ content and other member only offers, here.