Facilitating social computing in SharePoint 2010
Not all social computing is accomplished through Facebook. Set up My Sites in SharePoint 2010 so your users can see what their colleagues are working on.
As Web 2.0 technologies spread, users should know that SharePoint 2010 has an array of social-computing features...
Continue Reading This Article
Enjoy this article as well as all of our content, including E-Guides, news, tips and more.
By submitting your email address, you agree to receive emails regarding relevant topic offers from TechTarget and its partners. You can withdraw your consent at any time. Contact TechTarget at 275 Grove Street, Newton, MA.
You also agree that your personal information may be transferred and processed in the United States, and that you have read and agree to the Terms of Use and the Privacy Policy.

to enhance collaboration within a corporate setting. This tip will explain how to set up My Sites in SharePoint to give your users access to their colleagues' activities, comments and more.
SharePoint 2010's My Sites are commonly referred to as "Facebook for the Enterprise." They are a form of social computing made up of personal SharePoint site collections that provide each user in an organization the ability to efficiently store private and public information.
Before we delve into the SharePoint 2010 My Sites setup, let's discuss some of the key features and concepts.
In SharePoint 2010, individual My Sites are broken into three key areas: My Content, My Profile and My Newsfeed.
My Content in SharePoint 2010. This is where users store documents (shared and private), personal SharePoint lists and sub-sites. They all sit under your users' personal site collections. The area is customizable, and additional Web parts can be added to the page. This area is only available to the user.
My Profile in SharePoint 2010. This area displays user information to other users in the organization when they access a colleague's My Site page. My Profile publicly shares information and attributes that are stored against each user's profile, including interests, skills and where the user sits in the organizational hierarchy.
My Newsfeed in SharePoint 2010.This area displays a feed of colleagues' recent activities and is similar to a Facebook wall. The area is customizable; employees can configure which activities they would like to follow. Activities include colleagues' comments and shows which items they are tagging.
How to create a dedicated My Site Web application
Now, let's go over the My Sites setup process for SharePoint 2010. This tip assumes that the User Profile Service and Managed Metadata Service applications are already configured.
Begin by first creating a Web application that will house our My Site Host Site Collection and subsequent site collections.
Navigate to Central Administration -> Application Management -> Web Applications.
Click New.
Enter the following information:
Authentication: Select either Claims Based Authentication or Classic Based Authentication, depending on your requirements. In the example shown, I've selected Classic.
IIS Web Site: Create a new IIS site (enter details per your requirements). Note that I've also specified a fully qualified domain name (FQDN) as my Host Header. Also, make sure that a DNS entry exists for your Host Header (Figure 1).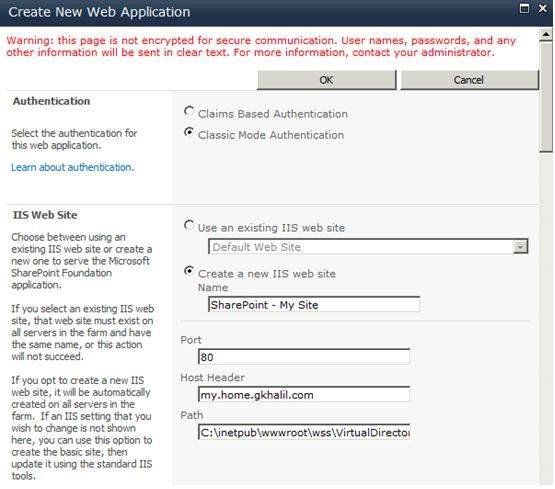 Figure 1. Choose your authentication method and fill out your IIS website info for SharePoint 2010.
Authentication Provider: Select your preferred provider based on your requirements.
Public URL: Specify which URL users will enter to access their My Sites (Figure 2).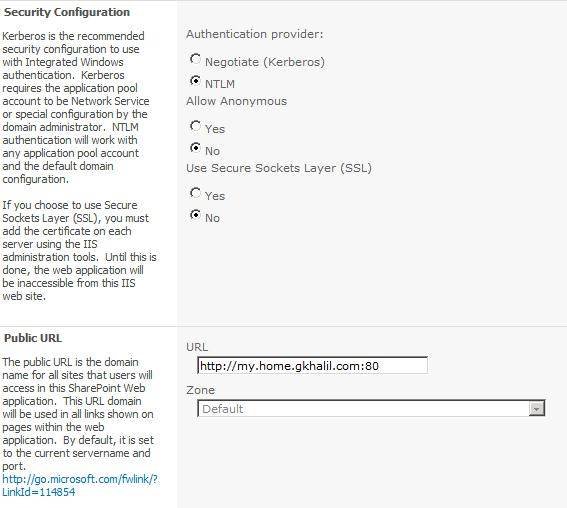 Figure 2. Set up your security configuration and public URL in SharePoint 2010.
Application Pool: Create a new Application Pool and name it. I have a standard domain account provisioned in Active Directory. In my example, I've created an account named DOMAIN\sp_mysite.
Database Name and Authentication: Specify your database server and database name (Figure 3).
Click OK.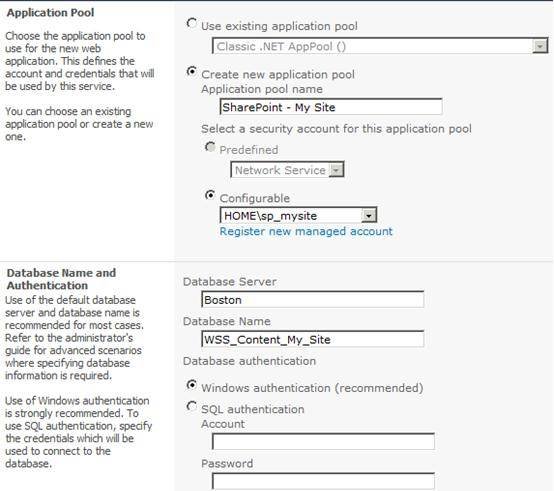 Figure 3. Create an Application Pool and specify your Database Server and Name in SharePoint 2010.
After completing these steps, you'll receive a notification box stating that the Web application has been created.
Creating the My Site Host Site Collection
Now that you've successfully created the My Site Web Application, you can create a My Site Host Site Collection. This is the top-level site that will house your users' site collections.
Navigate to Central Administration -> Application Management -> Create site collections.
Make sure that your recently created My Site Web Application is selected.
Select a title and description.
Keep the default Web Site Address. This is usually displayed as "/".
Select the My Site Host Template, located under the Enterprise Tab.
Specify your site collection administrators.
Click OK.
You'll receive a notification box stating that the new top-level site has been created.
Configure My Site settings
After you've successfully provisioned a My Site Web Application and top-level Site Collection to host your My Sites, it's time to configure your My Site settings.
Navigate to Central Administration -> Application Management -> Manage service applications
Click on User Profiles.
Click on Setup My Sites located under My Site Settings.
Enter the details of your Preferred Search Center, if you have one set up already.
Enter the URL of the My Site Host you created in the previous step and the personal site location. This defaults to personal (Figure 4).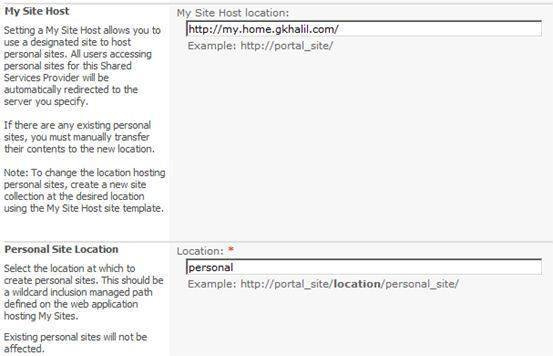 Figure 4. Enter your My Site Host location and Personal Site Location in SharePoint 2010.
Select your Site Naming Format. Normally, I select Domain and user name so that I won't have conflicts. Next, configure your Language Options, Permissions and My Site Email Notifications (Figure 5).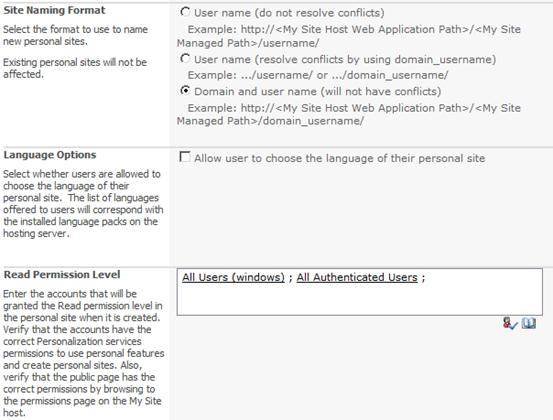 Figure 5. Configure your SharePoint 2010 Site Naming Format, Languages and Permission Levels.
Click OK.
Define a Managed Path
In Figure 4, we specified personal as our Personal Site Location. However, we still need to define our Managed Path against our My Site Web Application.
Navigate to Central Administration -> Application Management -> Manage Web Applications.
Click on your My Site Web Application, then click on Managed Paths in the ribbon.
Under Add a New Path, add personal as a Wildcard inclusion.
Click Add Path, then click OK (Figure 6).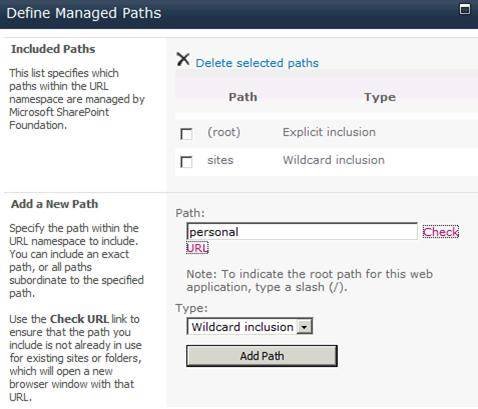 Figure 6. Determine which paths you'd like to include in SharePoint 2010.
Enable Self-Service Creation
Self-Service Site Creation is imperative because it allows users to provision their own individual My Site collections automatically after they click the My Content link.
Navigate to Central Administration -> Application Management -> Manage Web Applications.
Click on your My Site Web Application, then click on Self-Service Site Creation.
Select the On radio button and click OK (Figure 7).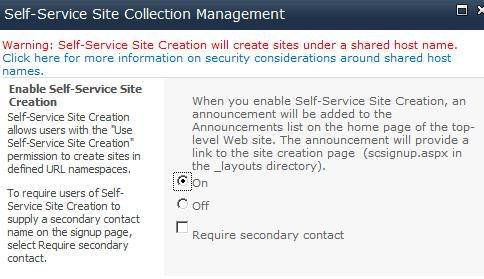 Figure 7. You must manually enable Self-Service Site Creation in SharePoint 2010.
Enable the User Profile Service Activity Feed Job
The User Profile Service Activity Feed Job is disabled by default. If you'd like your users to receive updates about their colleagues' activities in the "My Newsfeed" area of My Site, you must manually enable the Activity Feed Job (Figure 8).
Navigate to Central Administration -> Monitoring -> Timer Jobs -> Review Job Definition.
Change the filters so that the View is set to Service and that the Service is set to User Profile Service.
Click on the User Profiles; the name is dependent on what you labeled the User Profile Service – Activity Feed Job.
Click Enable.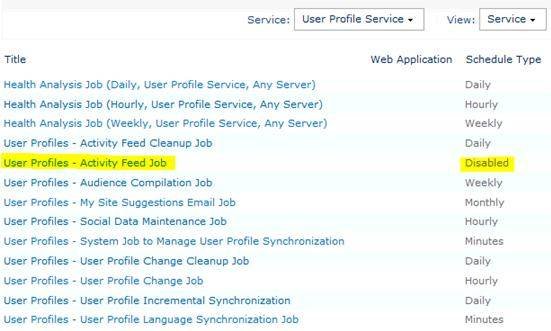 Figure 8. You've now enabled the SharePoint 2010 news feeds.
Congratulations, you've successfully provisioned My Sites in SharePoint 2010.
When users navigate to the My Site URL, they will be greeted with the My Newsfeed Page. After a user clicks on My Content, SharePoint will create the personal site collection for that user.
ABOUT THE AUTHOR
George Khalil has over 13 years of experience in IT with a focus on enterprise Microsoft Technologies. He has served as IT Manager for a nationwide accounting firm and is currently an independent enterprise systems consultant. Khalil is a Microsoft Certified IT Professional, Technology
Specialist, Systems Engineer and Systems Administrator. Read his blog at http://sharepointgeorge.com/ and follow him on Twitter at http://twitter.com/georgekhalil
Dig Deeper on Microsoft SharePoint Implementation
PRO+
Content
Find more PRO+ content and other member only offers, here.