Using Device Manager
Use Device Manager to view or print the configuration and drivers loaded for any device on your system as well as to disable, uninstall, or change the configuration for a device.
The following is tip #3 from "10 tips in 10 minutes: Configuring Windows 2000 Server," excerpted from Chapter 6...
Continue Reading This Article
Enjoy this article as well as all of our content, including E-Guides, news, tips and more.
By submitting your email address, you agree to receive emails regarding relevant topic offers from TechTarget and its partners. You can withdraw your consent at any time. Contact TechTarget at 275 Grove Street, Newton, MA.
You also agree that your personal information may be transferred and processed in the United States, and that you have read and agree to the Terms of Use and the Privacy Policy.

in the book Microsoft Windows 2000 Server Administrator's Companion, Second Edition, published by Microsoft Press.
---
Device Manager is a central repository for device information in Windows 2000. If you've used Device Manager in Microsoft Windows 95/98, you'll be at home with the Windows 2000 Device Manager. Use it to view or print the configuration and drivers loaded for any device on your system as well as to disable, uninstall, or change the configuration for a device.
Opening Device Manager
You can access Device Manager in one of several ways. Perhaps the most useful way is to launch Computer Management (Compmgmt.msc) from the Administrative Tools folder on the Programs menu. Click the plus sign next to System Tools to expand the tree, and then click Device Manager.
You can also access Device Manager by opening the System tool in Control Panel. Click the Hardware tab and then click Device Manager. The Hardware tab also contains the Hardware Wizard and the Driver Signing tool that you can use to specify whether you want to permit the use of unsigned device drivers.
Working with Device Manager
After opening Device Manager, you'll see a list of all the devices that Windows 2000 has detected on your system (see image below). Any nonfunctioning devices are displayed with an exclamation point, indicating that a problem exists with the device; disabled devices are displayed with a small red "x" over the icon.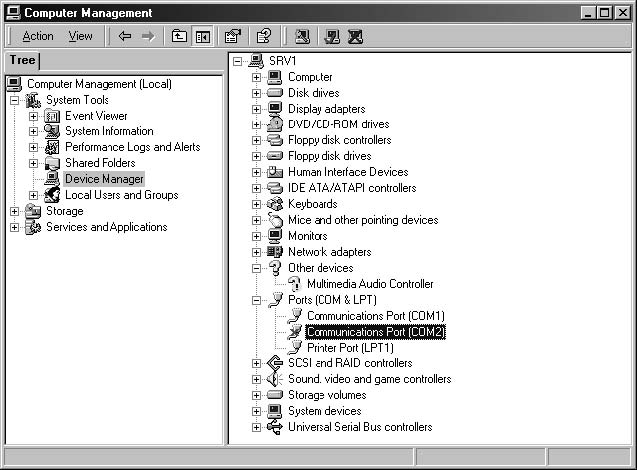 On the far right side of the toolbar, icons are available according to the device you've selected. In the image above, they are the following buttons (reading from left to right):
Scan For Hardware Changes Click this button to tell the system to look for changes in hardware. Use this button after adding new PnP devices or after swapping hardware.
Disable/Enable Select a device and click this button to disable it or enable it, depending on its current status. When a device is disabled, its resources are freed and its drivers remain but are not loaded during startup. Take care not to disable something you need to start the machine.
Uninstall Select a device and click this button to uninstall it. This should only be necessary for non-PnP devices. You can uninstall a PnP device by simply removing it from the computer. Uninstalling a device doesn't remove its drivers from the hard disk.
To change the Device Manager display, choose a setting from the View menu. Use the different view settings for Device Manager to organize your system's devices in a way that makes it easy to find the information you need.
Working with Device Properties
To display a device's properties (see image below), select the device, and then click the Properties toolbar button or double-click the device. In the Device Properties dialog box, there might be several tabs. You can view the status and configuration information, as well as the device manufacturer, device type, and location, in the upper portion of the General tab.
The Device Status box in the middle of the General tab displays the status of the device, including any errors. If the device has any problems, the Device Status box briefly describes the problem, and usually it also describes the appropriate course of action to correct the problem. Click Troubleshooter to use the built-in mechanisms for detecting the nature of the problem.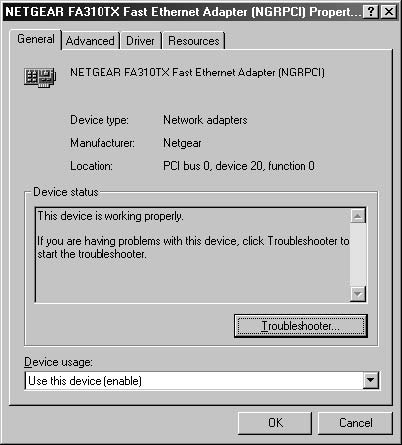 Other tabs include the Driver tab, which displays the details of the driver being used. This tab also lets you update or uninstall the driver. The Resources tab displays the hardware resources being used. This tab allows you to see and resolve any conflicts caused by non-PnP devices. Along with these tabs, some devices have additional advanced settings or tabs for device-specific settings.
TABLE OF CONTENTS
- Introduction
- Tip 1: Checking for setup problems
- Tip 2: Configuring devices
- Tip 3: Using Device Manager
- Tip 4: Troubleshooting devices
- Tip 5: Configuring Networking Settings
- Tip 6: Using the Windows 2000 Configure Your Server Tool
- Tip 7: Configuring the first server on your network
- Tip 8: Performance and memory tuning
- Tip 9: Updating Windows
- Tip 10: Securing Windows
This chapter excerpt from Microsoft Windows 2000 Server Administrator's Companion, Second Edition by Charlie Russel, Sharon Crawford and Jason Gerend is printed with permission from Microsoft Press, Copyright 2002. Click here for the chapter download or to purchase the book.

This was first published in
August 2005
Dig Deeper on Windows Data Recovery
PRO+
Content
Find more PRO+ content and other member only offers, here.