Microsoft Group Policy Tutorial
This guide introduces you to Group Policy. From the basics of using GP to run your environment to the changes you can expect after migrating to Windows Vista, we've got all the tips, article and how-to's administrators need to know.
A recent survey revealed that Active Directory and Group Policy management was one of the leading areas of software investment for companies in 2008. Obviously Group Policy is an important part of any Windows environment, but did you know that we have tons of content to help you on SearchWindowsServer.com? Read through the guide below to find links to resources on Microsoft Group Policy, with articles, book excerpts and expert advice...
Continue Reading This Article
Enjoy this article as well as all of our content, including E-Guides, news, tips and more.
By submitting you agree to receive email communications from TechTarget and its partners. Privacy Policy Terms of Use.

covering best practices and pitfalls to avoid, as well as troubleshooting help and more.
Table of contents:
- Start here: a guide to Active Directory
- Active Directory basics
- DNS and Active Directory
- Active Directory replication
- Security and Active Directory
- Active Directory planning and design
- Microsoft Group Policy Tutorial
- Changes to Active Directory
- More Active Directory topics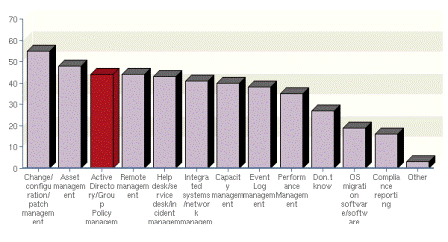 Table of contents:
- Group Policy basics
- Windows Vista and Group Policy
- Group Policy security
- Group Policy tools and troubleshooting
- More Group Policy topics
Group Policy basics
As most administrators know, Microsoft Group Policy is a great technology for managing enterprise users in an Active Directory environment. Administrators can use Group Policy to define options for managing configuration of servers, desktops and groups of users. Whether you are new to Group Policy or just need a basic primer, this section has what you need, before during and after you deploy.
Admins can retrieve lost files using GP folder redirection and turn off Desktop Cleanup Wizard via Group Policy. You can even push printers to Windows 2000 clients using GP.
While Group Policy may ease Active Directory pain, anyone who has administered Group Policy knows that it can often be just as maddening as it is helpful. From an explanation of Group Policy's Resultant Set of Policy (RSoP), to a detailed breakdown of the Windows Server 2003 Group Policy infrastructure, understanding the concepts and details is essential to managing and configuring your Windows network successfully.
Understanding Group Policy means understanding Group Policy Objects (GPOs). GPOs are the collections of various application and Registry settings that have been defined by an administrator to enforce a particular behavior on a user or computer object. GPOs are designed as a way to globally modify user and computer settings through a controllable and manageable central interface.
GPOs allow administrator's the ability to add or modify the registry via Group Policy and offer Remote Assistance to LAN users. Believe it or not, Windows admins can actually manage Group Policy Objects to an extent by using other GPOs.
Replication services for Group Policy Objects are key to the stability of a GPO. Understanding the ins and outs of GPO replication can help ensure a more stable environment.
Group Policy Objects are split into two parts: the Group Policy Template and the Group Policy Container. The relationship of the version numbers for the Group Policy Template and Group Policy Console of each GPO are important for proper Group Policy replication, and understanding how to use the Group Policy Template is vital to successfully managing your Group Policy.
Another common use for Group Policy is application deployment. Learn the basics on how to deploy an application based on Group Policy, and then learn how to fine-tune the process.
Dig deeper on Microsoft Group Policy Management