Exchange Mailbag: POP3 settings and Outlook issues
In the new Exchange Server Mailbag, expert David Sengupta responds to user questions ranging from how to troubleshoot POP3 and mailboxes settings on Exchange Server 2003 to exporting GALs and fixing Outlook error messages.

In this edition of the Exchange Server Mailbag, expert David Sengupta fields questions ranging from Microsoft Outlook POP3 configurations and mailboxes to journaling, Outlook error messages, exporting GALs and more.
Have a question of your own? Send it along to editor@SearchExchange.com
---
I recently created a user in Active Directory and enabled the POP3 service in Exchange Server 2003. This user can send and receive email on her internal account and can receive external mail. She can't, however, seem to send to external domains. Do you have any suggestions? -- Andrey
David Sengupta - It sounds like your Outlook client configuration settings may be incorrect. If you go into the options under the account settings for the Outlook POP3 connection, you'll see a tab called Outgoing Server. Make sure that My Outgoing server (SMTP) requires authentication is checked. The radio button for Use same settings as my incoming mail server should also be selected. If that doesn't work, you may have a problem on the Exchange SMTP gateway.
I was told that I had to download the free version of Microsoft Office Outlook Connector to continue accessing my Hotmail account through Outlook 2003. I've done this, but access to my account is inexplicably denied. I also continue to receive an error message stating, "Forbidden." I've tried several online tips and taken the Connector off and re-loaded it. Do you know what my problem might be? --Iain
Sengupta - Assuming that you've done an uninstall/reinstall or a parallel install on another machine, I'd suggest that you check two things. First, make sure you've run all of the latest service packs. Secondly, make sure a firewall isn't blocking you. For example, there could potentially be a desktop firewall on your computer that's blocking access or you may have a troublesome corporate firewall.
I want to retrieve email stored in my POP3 mailboxes through Exchange server and then distribute it to the Exchange mail accounts. Can I use the servers in their current state or do I need to use another type of software? -- Salahuddin
Sengupta - If you're using the version of Exchange that comes with Small Business Server 2008, there is a POP connector included in the box. However, most Exchange users are not using SBS. As such, you'll need to use a third-party POP connector. You can easily find a POP connector using a local Internet search engine.
I'd like to export my Global Address List (GAL) to either Excel or CSV. What is the best way to go about this? -- Wong
Sengupta - First, create a new contacts folder in Outlook, be sure that it's empty and call it GAL Contacts. While in Outlook, navigate to the address book and browse the GAL. From there, you should be able to multi-select the entire GAL and right-click to add it to the appropriate contacts folder.
This operation may take a long time depending how large your GAL is. In Outlook, choose File-> Import and Export -> Export to a file -> Microsoft Excel. Follow the wizard and choose a location for the export. From there, you'll find the file you're searching for.
Once email has been journaled, how easy is it to retrieve that email? I want to force user mailboxes to be archived and stored in a central location. -- Cindy
Sengupta - Journaling should be used with a third-party archiving solution. You're using journaling to divide all messages sent "to" and "from" individual mailboxes while capturing them in one or more journaling mailboxes. These messages then either forward to, or are pulled in by, the archive. How you retrieve these messages depends on how easy it is to work with your third-party email-archiving solution.
ABOUT THE AUTHOR: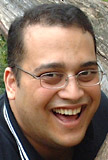 David Sengupta, Microsoft Exchange MVP
David Sengupta (mailman@quest.com), based in Ottawa, Canada, is a Group Product Manager in Quest Software's Infrastructure Management group and a Microsoft Exchange MVP. He has contributed to Exchange Server books, magazines, and white papers; is a regular Exchange Server columnist and speaker; and speaks at Microsoft Exchange events, Tech-Ed and IT Forum conferences.
Dig Deeper on Exchange Server setup and troubleshooting