Get the low-down on Windows Server 2008 R2
Hyper-V's live migration and improvements to Active Directory make Windows Server 2008 R2 an attractive upgrade over Windows Server 2008. This Windows Digest includes news, tips and advice that IT managers need to know before moving to Windows Server 2008 R2.
Windows Server 2008 R2, which Microsoft released in October, represented a substantial makeover from its predecessor, Windows Server 2008. Loaded with new features and functionality, R2 gives IT managers a lot to think about. With information on improvements to Active Directory and BitLocker, to the latest on Microsoft Hyper-V R2, this Windows Digest has all of the latest news, tips and advice on Windows Server 2008 R2.

Download this free guide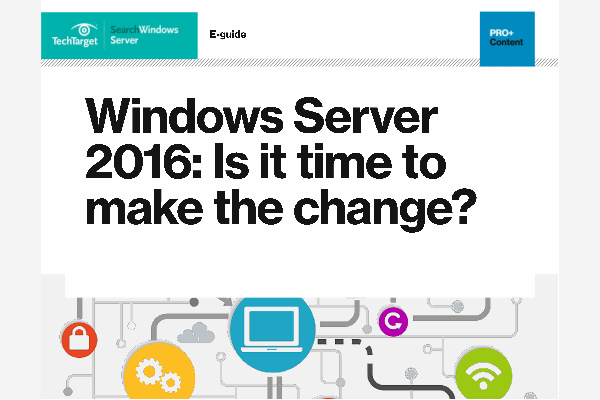 Download: Buyer's Guide to Windows Server 2016 in 2017
You may be due for an upgrade! Check out our full Windows Server 2016 Buyer's Guide to see if a switch to the new server would be the best move for your organization.
Features and improvements
Every Windows release is described as "the most secure OS yet." Find out how Windows Server 2008 R2 measures up to normal security standards.
One feature that can help keep you secure is Microsoft's BitLocker To Go technology. While more commonly associated with desktop security, BitLocker in Windows 2008 R2 is also ideal for protecting branch office servers. And while most IT security software goes to work after an infection has been identified, AppLocker in Windows Server 2008 R2 allows for a more proactive approach.
While some minor improvements could make a big difference with the latest version of Internet Information Services in R2, IT pros are more excited about the new Active Directory features in Windows Server 2008 R2 than anything else.
Virtualization in Windows Server 2008 R2
Live Migration is just one of the improvements made to Hyper-V with Windows Server 2008 R2. Storage improvements in Hyper-V R2, including the elimination of clustering limitations and the addition of dynamic storage, may also increase the hypervisor's popularity.
Remote Desktop Services is brand new. RDS upgrades Microsoft's Terminal Services to a platform additionally capable of hosting your Virtual Desktop Infrastructure (VDI). Learn how to install and configure Remote Desktop Services on Windows 2008 R2 to use Terminal Services and Remote Desktop Gateway Manager.
In addition, native support for virtual hard disks makes it easier for administrators to use VHDs, and the latest management release from Citrix will leverage virtualization features for Windows Server 2008 R2.
Dig Deeper on Enterprise infrastructure management