How a hosted Exchange service can help you
Considering a move to Exchange hosted services? See the unexpected benefits one company realized and read some pros and cons of moving to a hosted, off-premise Exchange Server environment.
If Lisa Carter, IT decision maker at SpartanTec, Inc. didn't appreciate her hosted Exchange service before, she certainly did this summer when the hard drive on a company laptop went down. Data on the hard drive was unrecoverable, but that turned out to be of little consequence, Carter said.

Download this free guide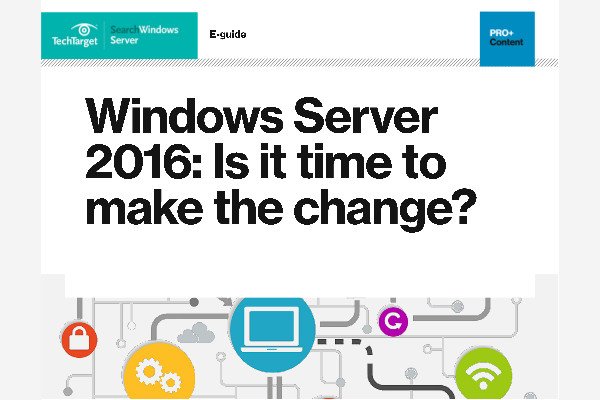 Download: Buyer's Guide to Windows Server 2016 in 2018
You may be due for an upgrade! Check out our full Windows Server 2016 Buyer's Guide to see if a switch to the new server would be the best move for your organization.
The salesperson whose laptop had crashed kept most of her critical data in email, which was recoverable via the AppRiver Secure Exchange Hosting service that SpartenTec subscribes to. "This was very helpful -- it's like having disaster recovery for a small business," Carter said.
The benefit of running Exchange on external servers was always considered, but the company had not previously put recoverability to the test. "There's always the possibility that somebody will fat finger something in Outlook or download a virus, and most people don't do routine backups even though they know they should," added Carter, CEO at the Loris, S.C.-based Internet security consulting firm and value-added reseller.
Top of mind when weighing a hosted Exchange service was administrative simplicity. SpartanTec is a small company that has virtual offices scattered around the country -- plus a home office. "With a small staff, we didn't want to have to have a full-time somebody managing Exchange servers, firewalls and the day-to-day infrastructure issues that come up," said Carter. Cost also was a driving factor. Buying an Exchange server, software and licenses would have been more costly than paying for the hosted service, she added.
AppRiver Secure Exchange hosting also synchronizes with a variety of mobile devices. This capability gave SpartanTec employees instant access to email, calendars, contacts and tasks on any mobile device. "We have Microsoft phones, iPhones and BlackBerries. It's great that I don't have to dictate what mobile device everybody needs to use," said Carter.
The pros and cons of hosting Exchange
Are you trying to deciding if moving to a hosted Exchange environment will work for your enterprise? Kayvaan Ghassemieh, senior product manager of Microsoft Online Services, shares his top reasons for and against moving Exchange Servers off premise.
Four reasons to host your Exchange servers:
Simplified administration

Greenfield setting -- users get benefits of new capabilities without having to take on big server upgrades

Just-in-time licensing

Security reliability
Three reasons to run Exchange servers in house:
Control -- If you want to be able to tweak every single dial and knob on your Exchange server, the server needs to be on premise.

Integration -- You won't be able to achieve deep integration with business applications from a hosted environment.

Compliance -- Meeting terms of some regulatory or internal company policies may mean certain data or a specific type of user has to remain in the corporate data center.
Beth Schultz is a free-lance IT writer in Chicago. You can reach her at bschultz5824@gmail.com.
Dig Deeper on Legacy Exchange Server versions